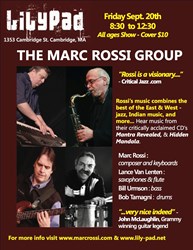 "The Marc Rossi Group's Mantra Revealed is a bridge between the exotic and the sublime. This music is intercultural, wonderfully inventive and dynamic." - Walter Kolosky
Cambridge, MA (PRWEB) September 16, 2013
Composer/pianist and Berklee Professor Marc Rossi's music combines the best of the East and West, delivering unique, uplifting, exuberant music that draws upon influences from jazz masters, Indian music, World music, and much more. Friday, September 20th, the group will play music from their critically acclaimed CDs Mantra Revealed, and Hidden Mandala, and other new pieces live at The LilyPad in Cambridge, MA.
The Marc Rossi Group Live at The LilyPad
Friday Sept. 20, 2013. 8:30pm to 12:30.
1353 Cambridge St, Cambridge, MA 02139
$10 cover. All ages show!
"The Marc Rossi Group's Mantra Revealed is a bridge between the exotic and the sublime. This music is intercultural, wonderfully inventive and dynamic." - Walter Kolosky, renown jazz critic and author
"Rossi is a visionary....." - Criticaljazz.com
"...Very nice indeed, not only the time signatures, but the modulations.."

John McLaughlin, guitar legend and Grammy winner.
"Marc Rossi is the hip guru of Indian-jazz fusion."

Richard Stoltzman, Grammy-winning clarinet soloist
"On Hidden Mandala, Rossi's songs capture the rich possibilities of classical Indian music, but still stay true to their jazz roots....at once giving the song a gutsy rootedness and the harmonic freedom to float out of western conventions. ...as the improvisations speak to limitless possibilities." --Jay Deshpande, AllAboutjazz.com
Marc Rossi, composer/keyboards
Lance Van Lenten, saxophones and flute
Bill Urmson, bass
Bob Tamagni, drums
All ages show! For more info visit http://www.marcrossi.com, or http://www.lily-pad.net
For more information, images, or to arrange for an interview with Marc Rossi, please contact Melissa Zeigler at Powderfinger Promotions: melissa(at)powderfingerpromo(dot)com.
Powderfinger Promotions–Independent Radio Promotion and Publicity. Since being founded in October 1994, Powderfinger has come to be regarded as a top indie radio promotion and publicity firm with ties across North America.