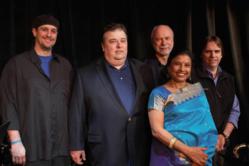 "Rossi is a visionary....." - Criticaljazz.com
Cambridge, MA (PRWEB) April 02, 2013
The Marc Rossi Group performs at Ryles Jazz Club, 'World Wednesday' - 212 Hampshire St Cambridge, MA 02139 on Wednesday April 10th, 2013 from 9PM - midnight.
Composer, pianist and Berklee Professor Marc Rossi combines the best of the East and the best of the West, delivering unique, uplifting, exuberant music that draws upon influences from jazz masters, Indian music, World music, and much more. The group, joined by guest Indian vocalist Geetha Ramanathan Bennett, will play music from their critically acclaimed CDs Mantra Revealed and Hidden Mandala.
Performers include Marc Rossi (composer and keyboards), Lance Van Lenten (saxophones and flute), Bill Urmson (bass), Bob Tamagni (drums), and Geetha Ramanathan Bennett, (Indian vocals). Geetha Ramanathan Bennett has toured and recorded with with Trilok Gurtu, Andy Summers of the Police, and sang in the blockbuster film The Guru.
"The Marc Rossi Group's Mantra Revealed is a bridge between the exotic and the sublime. This music is intercultural, wonderfully inventive and dynamic." - Walter Kolosky, reknown jazz critic and author
"Rossi is a visionary....." - Criticaljazz.com
"...Very nice indeed, not only the time signatures, but the modulations.." - John McLaughlin, guitar legend and Grammy winner.
"Marc Rossi is the hip guru of Indian-jazz fusion." - Richard Stoltzman, Grammy winning clarinet soloist
All ages show. For more info visit http://www.rylesjazz.com, or http://www.marcrossi.com