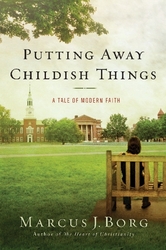 PUTTING AWAY CHILDISH THINGS promises to leave us different in the end than when we started.
San Francisco, CA (PRWEB) April 13, 2010
Marcus Borg, bestselling author and religion scholar, breaks new ground in PUTTING AWAY CHILDISH THINGS (May 2010; HarperOne). Taking the reader on an intimate journey of the life of a college professor, her students, and a crisis of faith, Borg is able to show his transformative teachings on faith and the Bible in a new way.
Kate is a popular religion professor at a liberal arts college in a small midwestern town who thinks her life is right on track. She loves her job, is happy with her personal and spiritual life, and her guilty pleasure consists of passing her afternoons at the local pub with a pint of Guinness and a cigarette.
Kate is up for tenure when it all starts to go wrong. A colleague warns her that her books are too Christian and too popular. She is offered a visiting professor job at a prestigious seminary, which sounds like the perfect solution except for one complication—it is the same seminary that employs the professor she had an affair with years ago. Kate now has to face her past and watch as the ramifications unfold in ways she never imagined.
In the classroom, students ask for her views on Jesus, the Bible, and homosexuality, controversial topics that Kate candidly addresses until outraged parents start campaigning for the school to get rid of her. Through it all, Kate faces the toughest challenge yet—a crisis of faith that leaves her questioning what she believed so strongly before.
Along the way, readers learn about the theological and social issues dividing Christians today as the characters engage them in their lives and work. Examining topics such as:

What is the Bible?
What is the quest for the historical Jesus all about?
What is the nature of faith?
How does the study of religion relate to the practice of religion?
Are reason and faith friends or foes?
PUTTING AWAY CHILDISH THINGS promises to leave us different in the end than when we started.
Marcus J. Borg is professor emeritus in the philosophy department at Oregon State University, where he held the Hundere Chair in Religion and Culture, and author of the New York Times bestselling Meeting Jesus Again for the First Time, The Heart of Christianity, The Last Week, and Jesus. He was an active member of the Jesus Seminar when it focused on the historical Jesus and he has been chair of the historical Jesus section of the Society of Biblical Literature. Visit the author online at http://www.marcusjborg.com.
###