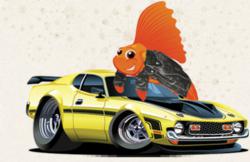 Bottom line there are really only six things you can do to maintain your health.
New Orleans, Louisiana (PRWEB) February 22, 2012
RoadFish.com men's lifestyle and finance magazine yesterday celebrated Fat Tuesday, the traditional holiday of eating and indulgence that falls on the Tuesday before Ash Wednesday every year, and encourages tips for pigging out in a healthy way. Investing in foods that contain no artificial sweeteners, colors, or ingredients is one way to keep junk food healthy. Buying organic and non-processed foods is another option to keep things wholesome and good for you.
Rene Lynch of The Los Angeles Times reported that Fat Tuesday is the English translation of the French name, "Mardi Gras." The holiday is known for its focus on the indulgence of foods rich in carbohydrates and fried foods, such as pancakes and doughnuts. The LA Times article explains that one theory for the origin of the eating-fest is that it stems from per-refrigerator days, and Catholics and Christians who celebrated Lent had to eat all the goods before the onset of the food-abstinence which Lent calls for. This is why pancakes make a popular Fat Tuesday food, as they used eggs and milk, perishables which would be cut out of one's Lenten diet.
One of the more popular treats traditionally eaten on Fat Tuesday is the King Cake, a brioche-style cinnamon bread which is braided and topped with sugary icing and "Mardi Gras" colored sprinkles. Customarily there is a small trinket (usually a plastic toy baby to represent Baby Jesus) hidden inside of the cake for somebody to find in their slice. Different cultures hold the finder of the trinket to different duties, some claiming them the Queen or King of the party, others must buy the next King Cake or prepare the next feast.
RoadFish.com's editor was quoted saying, "Bottom line there are really only six things you can do to maintain your health. All of these are easily screwed up on Fat Tuesday. They are proper communication from brain to body (chiropractic), exercise, sufficient nutrient intake, mental health, enough rest, no toxic intake."
Fat Tuesday falls every year on the Tuesday before Ash Wednesday. Ash Wednesday, for Catholics and Christians, is the start of the Lenten holiday which represents the 40 days that Jesus fasted in the desert. It is customary during Lent for Catholics to abstain from something they do regularly in their daily lives to mimic Jesus' 40-day fast. At the conclusion of Lent is Easter. Ash Wednesday is today, marked by the ritual of ashes being placed on the foreheads of Christians who attend mass. The ashes are traditionally gathered after the previous year's Palm Sunday's palms are burned, and are placed on the forehead by a priest or minister to represent mourning and repentance to God.
RoadFish.com's editor feels that Fat Tuesday and other holidays marked by eating can be fun and healthy at the same time. He encourages people to make "healthy eating choices in the midst of pigging out, and stick to my six health tips and you'll be all set."
Check your local newspaper or news listings online to find service times if you are planning to attend an Ash Wednesday service.
About Roadfish
RoadFish.com is an online men's lifestyle and finance magazine targeted toward men in their 30's and 40's that have already attained a moderate level of success in life, and are striving toward more. It goes over current events of interest to this group, such things as exciting adventures, consumer interests, health issues, and dating tips, as well as ways to make more and save more money. It is a publication owned by Purpose Inc.
###