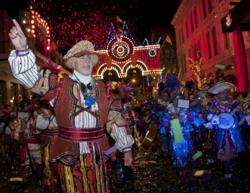 The 100th celebration of Mardi Gras! Galveston will include 26 concerts, 18 parades, 13 balcony parties and five elegant masked balls.
Galveston Island, TX (Vocus/PRWEB) February 21, 2011
The costumes are ready and the finishing touches of parade floats are proudly being admired, as revelers get ready for the 100th celebration of Texas' largest Mardi Gras festival.
Beginning Feb. 25, the streets of Galveston Island will come alive with the extravagant parades, festive sounds and playful bead throwing of Mardi Gras! Galveston. The event -- which will include eight new parades -- will continue through March 8.
In total, this year's event will include 26 concerts, 18 parades, 13 balcony parties and five elegant masked balls. Opening weekend, the nationally known alternative rock band Neon Trees will headline performances to be held on two stages throughout both weekends of the Mardi Gras celebration. Neon Trees will perform at 9:45 p.m. Saturday, Feb. 26.
"We're expecting the 100th celebration to be better than any year prior," said Mike Dean of Yaga's Entertainment, the promoter of the event. "Mardi Gras is a great tradition on the Gulf Coast and Galveston's event is delightfully unique."
More than 200,000 people attend Mardi Gras! Galveston annually to participate in the pre-Lenten celebration. The event, organized by the City of Galveston, is best known for its lavish downtown and beachfront parades sponsored by krewes from around the region and state.
This year, new parades include: the "Salute to George Mitchell" Parade presented by Hotel Galvez and The Tremont House, Uptown Funky Umbrella Brigade, Pearland High School State Champs Parade, and Krewe da' Yaga's Cafe Parade to be held Feb. 25; the "iheartradio krewe" Parade, Houston Chronicle Neauxs Krewe Parade and Art Cars of Houston Parade to be held Feb. 26; and the Sunshine Kids Parade to be held Feb. 27.
The traditional free beachfront parades on Seawall Boulevard will return this year, including Mardi Gras! Galveston's largest parade put on by the Knights of Momus at 6 p.m. March 5. Other popular Seawall parades include the Mystic Krewe of Aquarius 24th Annual Mardi Gras Kick Off Parade and the Krewe of Gambrinus "Lights Up the Night" Parade both to be held Feb. 26; the Krewe d'Esprit Rosaire Parade and Battle of the Bands event to be held March 5; and the Krewe of Barkus & Meoux pet parade and Mardi Gras Children's Parade to be held March 6.
The beachfront carnival -- located at 34th Street and Seawall Boulevard -- will also return this year and will be open daily Feb. 25 through March 8 from 11 a.m. to midnight on weekends and 5 p.m. to midnight on weekdays.
Most concerts and parades will be held in the event's gated Uptown Entertainment District, located between Harborside Drive and Market Street within 20th through 25th streets. Admission to the entertainment district is $15. Tickets are required to enter the entertainment district on Fridays and Saturdays of Mardi Gras! Galveston as well as Sunday, Feb. 27 for "Family Day" festivities. On Family Day, tickets will cost $5; children 12 years and younger are free. Gate proceeds from Family Day will benefit The Sunshine Kids, a non-profit organization that works to provide positive group activities and emotional support for young cancer patients. Seawall activities do not require paid admission.
The entertainment district will be open from 5 p.m. to 1 a.m. Fridays; 11 a.m. to 1 a.m. Saturdays; and 11 a.m. to 6 p.m. Sundays.
Tickets can be purchased online at http://www.mardigrasgalveston.com.
About Mardi Gras! Galveston
Mardi Gras, the traditional festival of feasting and merrymaking that precedes the season of Lent, has been publicly observed on Galveston Island as early as 1867. Following a sabbatical imposed in 1941 by war and challenging times, Mardi Gras! Galveston was revived in 1985 by Galveston-born preservationist and developer George P. Mitchell.
The largest celebration of its kind in Texas, the event has grown in cultural creativity and imagination, showcasing lavish parades, galas worthy of royalty, original artwork, children's activities and delicious Gulf Coast cuisine.
Still led by Galvestonians and their respective krewes, the grandeur is evident in the dueling parades that range from whimsical daytime processionals to elaborate night parades offering dramatic flair. The streets come to life with parade viewers screaming for beads, lively tunes played by colorful marching bands, and the infectious merriment that dominates the island for two full weeks.
Hotel availability is limited on the Island and guests should reserve rooms at the earliest convenience. For a complete schedule of events and more information about Mardi Gras! Galveston visit http://www.mardigrasgalveston.com.
Media Resources
Media professionals interested in scheduling interviews or receiving media passes to Mardi Gras! Galveston may contact Leah Boyd, public relations manager for the Galveston Island Convention & Visitors Bureau, at 409-797-5152 or lboyd(at)galvestoncvb(dot)com.
Photos for media use can be downloaded at http://www.galveston.com/photogallery.
Video footage for media use can be downloaded at http://www.galveston.com/b-roll_mardigras.
###