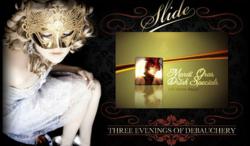 The club is beautiful, the bartenders are creative and cool, and the world-class DJs are incredible and keep me dancing until close!
San Francisco, CA (PRWEB) February 16, 2012
Slide invites all Bay Area party people 21 and over to get dressed up and slide down to the hottest Mardi Gras party west of Louisiana. From Thursday, February 16 through Saturday, February 18, 2012, Slide nightclub in San Francisco will host three nights of debauchery in true New Orleans style.
The celebration kicks off on Thursday, with "Baile de Carnaval" presented by Slide Thursdays and Lara Brasil. Music by DJ Lucas Med and Reggie Soares will move the dance floor, along with live Samba dancing by San Francisco's Carnaval Queen, Rebeca Souza. Sign up on the guest list at larabrasilsf.com.
Slide continues the Mardi Gras madness on Friday night with DJ MoMentum. One of the most well-known DJs in the Bay Area, he is famous for his unique sound that blends the flavors of today's San Francisco club culture.
On Saturday, Slide will feature the personality and passion of DJ Zhaldee for the final night of Mardi Gras fun. He brings the party to life with a mix of Top 40, rock, hip-hop, mash-ups, R&B, soul, and house music. This is a guest list only event, sign up at flirtyflirty.com.
Slide will be giving out free beads and masks to all partygoers. Doors open at 9:00 p.m. Bartenders will be mixing up Hurricanes from scratch and serving them for $5 all night, every night. VIP booths and bottle service are available each night.
"I always have a fantastic time at Slide," said Kris from San Francisco. "The club is beautiful, the bartenders are creative and cool, and the world-class DJs are incredible and keep me dancing until close!"
To reserve a VIP booth and bottle service for Mardi Gras at Slide nightclub in San Francisco call (415) 421-1916.
About Slide
Slide dance club, located at 430 Mason Street near Union Square, is one of the most visited [San Francisco nightclubs. The club is a historic speakeasy, which was accessed by the savvy few who knew where a secret wall gave way to the hidden subculture of Prohibition Era nightlife.
Behind the secret door, one could take a playground slide below street level to indulge in illicit gambling and the drinking of bootleg whiskey and spirits.
Slide nightclub now features an underground dance floor accessible by stairs or slide. The San Francisco dance club attracts local and international DJs spinning all genres of music, from hip-hop to electronic.
Slide is also available for private soirees. The club's experienced event managers assist customers with every request to ensure the complete success of each special occasion.
# # #