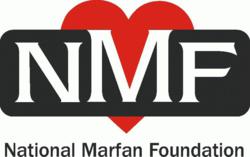 If you recognize the signs of the disorder in yourself or someone you know, it is critical to get evaluated and get treated. It could save your life.
Port Washington, NY (PRWEB) February 01, 2012
Despite the medical advances of the past 25 years, medical experts still contend that about half of those who have Marfan syndrome, a potentially fatal connective tissue disorder, are not diagnosed. The problem? According to the National Marfan Foundation, If the condition isn't diagnosed and treated, affected people are at an up to 250 times increased risk of suffering a tear or rupture of their aorta, the large artery that carries blood from the heart.
There is good news. Medical advances to slow the growth of the aorta and surgery to repair it before it tears or ruptures have come a long way in the past 30 years. People with Marfan syndrome can reasonably expect to live a normal lifespan despite the life-threatening heart complications they face – if they are diagnosed with the disorder and receive proper treatment.
"February is National Marfan Awareness Month, a time when the National Marfan Foundation and those in the Marfan community try to get the word out about Marfan syndrome. If you recognize the signs of the disorder in yourself or someone you know, it is critical to get evaluated and get treated. It could even save your life," said Jonathan Martin, Director of Education and Awareness Programs for the National Marfan Foundation (NMF).
What Does Marfan Syndrome Look Like?
Marfan syndrome is a disorder of the connective tissue, which is found throughout the body. As a result, multiple body systems are affected. People with this condition are frequently taller than other non-affected members of their family, with disproportionately long limbs, fingers and toes. They often have an indented or protruding chest bone, a curved spine (scoliosis), flat feet, a high-arched palate in their mouth and loose joints. The weak connective tissue can also be found in the aorta, and the constant pounding of the heart can cause this fragile tissue to enlarge or even tear if precautionary measures aren't taken. In about three-quarters of cases, Marfan syndrome is inherited from a parent, but in 25 percent of cases, it results from a spontaneous mutation.
A multi-system clinical exam is required to make the diagnosis. A cardiologist will examine the size and function of the aorta and heart valves; an ophthalmologist will evaluate the eyes, including a slit-lamp exam to look for lens dislocation; and a orthopedist will examine the bones and joints. A medical geneticist is also usually involved in the diagnostic process, to oversee all findings and coordinate all specialists.
What is the Outlook for Someone with Marfan Syndrome?
There is good news for people with Marfan syndrome. With a diagnosis, lifestyle adaptations (no contact or competitive sports), medication and, when necessary, surgery, people with Marfan syndrome have the hope of living a long lifespan. While life-long vigilance is required to manage the various problems caused by the disorder, they can avoid an aortic dissection or rupture which could be fatal.
Research on Marfan syndrome is ongoing and a breakthrough study has identified a commonly prescribed blood pressure medicine, losartan (Cozaar), that prevents and may even reverse the potentially fatal weakening of arteries in mice with Marfan syndrome (Science, April 7, 2006). The Pediatric Heart Network, with the support of the National Heart, Lung, and Blood Institute and the National Marfan Foundation, is conducting a clinical trial to study this medication in people with Marfan syndrome. Results are anticipated in 2014.
National Marfan Foundation is a Resource for Patients and the General Public
The National Marfan Foundation, which was founded in 1981, is a non-profit voluntary health organization dedicated to saving lives and improving the quality of life of individuals and families affected by the Marfan syndrome and related disorders by:

Educating affected individuals, family members and the health care community about the Marfan syndrome.
Advocating for and funding clinical and molecular research into the early detection and treatment of Marfan syndrome.
Providing a network of local and special-interest support groups to help affected people and their families share experiences.
For more information on Marfan syndrome, log on to http://www.marfan.org or call 800-8-MARFAN.
###