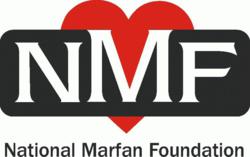 There are still doctors who are not familiar with Marfan syndrome and rely on information they learned in medical school decades ago, resulting in too many people not getting the diagnosis or medical management they need.
Port Washington, NY (PRWEB) March 21, 2012
Only 25 percent of patients with Marfan syndrome surveyed by the National Marfan Foundation (NMF) said that their primary care doctor – their internist, family doctor or pediatrician – was the first to suspect that they have the potentially life-threatening condition. Alarmingly, 12 percent of survey respondents indicated that they were diagnosed after the death of a family member from Marfan syndrome.
The survey of 1369 Marfan syndrome patients was conducted by the NMF from February 6-17, 2012, to better understand the diagnosis patterns of people with Marfan syndrome .
"Greater awareness of Marfan syndrome in the medical community has increased early diagnosis, and advances in drug therapies and new surgical options have helped to extend the life expectancy for those with the condition," said Alan Braverman, MD, Director of the Marfan Clinic at Washington University School of Medicine and Chair of the NMF's Professional Advisory Board. "However, there are still doctors who are not familiar with Marfan syndrome and rely on information they learned in medical school decades ago, resulting in too many people not getting the diagnosis or medical management they need."
The survey results reflected this range in knowledge among physicians. On the positive side, nearly 70 percent of respondents report that they were diagnosed before the age of 20. On the flip side, 18 percent indicated that the first characteristic that raised the suspicion of Marfan syndrome was an aortic dissection.
"Early diagnosis is critical so that patients can take medications to lower their heart rate and blood pressure, make lifestyle adaptations (no competitive or contact sports), and have their aorta monitored so they can have surgery before a potentially fatal tear or rupture," said Dr. Braverman.
Getting the diagnosis, however, is not always easy. One survey participant explained that, even though the child had a parent with Marfan syndrome and the parents noted that the child had Marfan features, such as a protruding chest bone, the pediatrician attributed the symptoms to other benign causes. It was not until his kindergarten vision exam that he was sent to the ophthalmologist, who then sent him to the cardiologist, who confirmed the diagnosis.
Features That Raise Suspicion of Marfan Syndrome
According to the survey, the outward signs that most often raised the suspicion of Marfan syndrome were orthopedic. Long limbs (73%); long, flexible fingers (68%); and height (64%) were mentioned most frequently, while indented or protruding chest bone (45%) and scoliosis (33%) also raised a red flag.
One-third of respondents (33%) indicated that a dislocated lens in the eye was the first feature to raise a suspicion of Marfan syndrome. This supports the important role of eye specialists as they are examining patients. In fact, survey participants said that eye care providers were the first to suspect Marfan syndrome in nearly 20 percent of cases (ophthalmologists 15% and optometrists 4%).
Early diagnosis is the goal for optimal treatment, but not everyone surveyed had the benefit of an early diagnosis. Four percent of respondents said that a doctor in the emergency department was the first to suspect Marfan syndrome. Highlighting the importance of public awareness, in eight percent of cases, a nonmedical person – such as a parent or grandparent – was the first to suspect the condition.
One parent wrote: "My mother in-law saw a segment on 20/20 about rare disorders and thought of my son when the characteristics of Marfan syndrome were explained. I took my son to the doctor, who said, 'No, no, he does not have that!' Then one day while watching the TV show ER, a case came in with Marfan syndrome and I decided to get my son checked out by our new doctor. She knew right away that there were enough physical traits to get him checked out for Marfan. She researched it, found us a specialist and the diagnosis was confirmed."
A father reported that his son was diagnosed by an emergency medicine physician only hours before the son died. They had questioned doctors for years about the boy's outward signs. The father explained that after his son's death, both he and his wife were evaluated; she was diagnosed with Marfan syndrome and needed life-saving aortic surgery immediately.
"There definitely needs to be more awareness in the medical profession," said the father. "In our community now, there is more awareness among doctors. It is so sad that our son's death had to be the cause of the awareness."
Current Diagnostic Criteria for Marfan Syndrome
An international panel of experts in the diagnosis and management of Marfan syndrome published new diagnostic criteria for the disorder in The Journal of Medical Genetics in 2010 (J Med Genet 2010;47:476-485) to simplify the evaluation process for physicians.
The diagnostic process for Marfan syndrome now features a method for evaluating a patient by deriving a systemic score, with various features of Marfan syndrome assigned a numeric value; the diagnosis depends on the total systemic score. This is a change from the previous nosology which relied on evaluation of features as "major" or "minor."
The scoring system reflects three significant changes in the way Marfan syndrome is diagnosed:

The two cardinal features of Marfan syndrome – aortic root dilatation/dissection and ectopia lentis (dislocated lens of the eye) – are weighted more heavily than other characteristics.
There is a more precise role for molecular testing.
Less specific manifestations of Marfan syndrome are either removed or given much less weight in the evaluation process.
Mobile Site Puts Diagnostic Criteria in Doctors' Hands
To put the diagnostic criteria into doctors' hands, the NMF developed a mobile website , http://www.MarfanDX.org, which features a summary of the new diagnostic criteria, including seven simple formulae for diagnosing Marfan syndrome. Expandable text provides a detailed explanation of each formula. The site also features:
Interactive Systemic Score Calculator used to consider the lesser characteristics of Marfan syndrome throughout the body that can be important in making the diagnosis. This too has expandable text and graphics, as well as the ability to email results for patient file.
Interactive Z-score calculator, used to determine the size of the aorta compared to body surface area. This can also be emailed for the patient file.
Key points about the role of genetic testing and family history.
Important information on differential diagnosis and related disorders.
Helpful links and resources.
The mobile site is also viewable on a desktop computer; it is compatible with Safari and Firefox browsers.
Marfan Syndrome
Approximately 200,000 people in the U.S. have Marfan syndrome or a related connective tissue disorder. Experts say that about half of those affected do not know they have the potentially life-threatening condition and, without a diagnosis and treatment, are at risk of a sudden early death.
Marfan syndrome is a connective tissue disorder that affects the heart, blood vessels, eyes, bones, joints and lungs. It is often, but not always, characterized by a tall stature and disproportionately long legs and arms. Other skeletal manifestations are curvature of the spine, a protruding or indented chest and loose joints. The most serious problem associated with Marfan syndrome is its effect on the aorta, the main artery carrying blood away from the heart.
The aorta is prone to progressive enlargement, which can lead to tears in the aortic wall that require surgery. If aortic enlargement and tears are left undetected, the aorta may rupture, leading to sudden death.
The life expectancy for people with Marfan syndrome who are diagnosed and treated is now in the 70's due to advances in cardiovascular surgery, improvements in medical therapy and enhanced awareness and diagnosis. Without a proper diagnosis and medical management, patients with Marfan syndrome are at risk for aortic dissection and sudden death.
The National Marfan Foundation
The National Marfan Foundation is a non-profit voluntary health organization dedicated to saving lives and improving the quality of life of individuals and families affected by the Marfan syndrome and related disorders by:
Educating affected individuals, family members and the health care community about Marfan syndrome.
Advocating for and funding clinical and molecular research into the early detection and treatment of Marfan syndrome.
Providing a network of local and special-interest support groups to help affected people and their families share experiences.
For more information on Marfan syndrome, call 800-8-MARFAN or log on to http://www.marfan.org