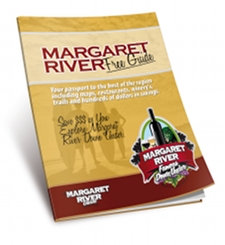 Gourmnet Escape is an event not to be missed, we'll be featuring a lot of information on the Margaret River Guide, and can't wait to be part of this event
Margaret River, Western Australia (PRWEB) June 11, 2013
Benji Leggate, announces The Margaret River Guide will be featuring the "Gourmet Escape" event held at various location in Margaret River 22-24 November 2013 on their website.
This is a perfect event to showcase the beautiful food and wines available throughout the margaret river region. The event will feature some of the best chefs from around the world and won't disappoint event the most particular foodie.
Mr. Leggate commented "Margaret River has seen many food and wine festivals over the years, but Gourmet Escape has already created a buzz in the area and is set to be one of the biggest events of the year."
While the Margaret River Guide has promoted many events on their website over the years, this event will be heavily reviewed on the website and all the guides followers will be encouraged to learn more about what's on offer at this year's Gourmet Escape.
"Gourmet Escape is an event not to be missed, we'll be featuring a lot of information on the Margaret River Guide, and can't wait to be part of this event," Mr. Leggate said in a statement.
The Margaret River Guide has been a long standing arm in the Margaret River tourism information industry. On this guide you'll find plenty of information about upcoming events, things to do and places to stay in Margaret River.
For more information about the Margaret River Guide or Gourmet Escape simply visit the official website at MargaretRiverGuide.com.au.