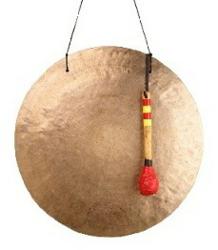 Sound is energy. It is created either within us or outside of us, but it is energy nonetheless – only in a different form.
Issaquah, WA (PRWEB) August 18, 2012
Join Margaret McElroy for the Global Gong Meditation on Sunday, August 26th at 2:00 pm, US Pacific Time. Margaret will lead the global meditation and play the gong, chimes and Tibetan bells as the musical accompaniment for this powerful event. The sounds created by these spiritual instruments are designed to guide anyone to a place of relaxation and spiritual healing. The Global Gong Meditation will take you on a journey to explore the depth of your soul and allow you to connect to a higher consciousness. Here is what some people are saying about the powerful energy of the gong.
"The meditation was wonderful, Margaret. I didn't see anything, but felt it in my heart chakra, then up in my throat, and ended in the 3rd eye area."
"Thank you so much, Margaret. It was wonderful for me. As it was 1:00am here after the meditation, I went straight to bed. Waking up now for work, I am still feeling those shimmering waves."
"Thank you so much for doing the gong meditation. I really appreciate the opportunity to raise my vibration. In the latter part of the meditation I had a lot of pain in my upper right back, shoulder, and arm. I assume that I was releasing something from the past which made me very happy. Thank you for helping all of us. I look forward to more gong meditations."
Margaret McElroy is an internationally renowned psychic, medium, spiritual teacher and a channel for the energy known as Maitreya. Maitreya, also called Maitreya Buddha or Mi Le Fo, is a spiritual energy who is often referred to as The World Teacher. Margaret McElroy has shared her messages and insights in many locations around the world, including Australia, New Zealand, the Netherlands, India, Singapore and Croatia. The Global Gong meditation is an excellent opportunity for anyone, anywhere in the world, to experience the incredible power of sound energy.
Anyone who wishes to participate in the meditation in person can do so at the Margaret M Center for Intuitive Arts in Issaquah, WA. The Global Gong Meditation will also be streaming live around the world on MargaretMcElroy.com. Cost to attend is $10.