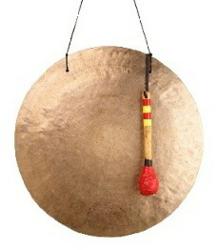 Issaquah, WA (PRWEB) November 25, 2012
On Sunday November 25 at 2:00 pm Pacific Time, Karen Downing will be leading this month's Global Gong Meditation. There is a variety of instruments used to bring out the healing power of sound. The energy of the gong will lead the way, and accompanying instruments such as the Tibetan bells and wind chimes.
The Global Gong Meditation is offered in person in Issaquah, WA and is also available to anyone around the world online at MargaretMcElroy.com. The Global Gong Meditation will begin with a short introduction, and then for 45 minutes the power of sound will transport the audience to a place of personal transformation. Once the meditation is complete, Karen will address the audience to discuss what each person experienced during the meditation.
Cost to attend the Global Gong Meditation is $10. The Global Gong Meditation will also be recorded and is available to listen to in the archives.