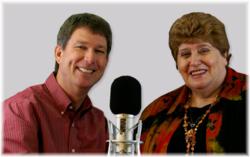 The change from the person I was 20 years ago is absolutely amazing. I now feel so at peace with my life.
Issaquah, WA (PRWEB) August 15, 2012
Let Thursdays change your life. Margaret M Productions is pleased to present a line up of truly amazing shows to help you understand the world of metaphysics. All shows are broadcast in a live video webcast on MargaretMcElroy.com and the audio portion is also streamed live to Blog Talk Radio.
The Sixth Sense
Margaret and Alan McElroy will enlighten your life on The Sixth Sense. On this week's show, the topic is Maitreya's messages on Facebook. Maitreya, also known as Maitreya Buddha or Mi Le Fo, is a teacher from the world beyond ours which many know as Spirit. He himself has said, "I am just an energy who has come to the Earth plane to teach. It does not matter who I am; what matters is the message. It is not about personalities, but the message." Maitreya has been teaching on the web since 1996.
Margaret McElroy describes Maitreya in the following way: "Over the last 20 years, Maitreya, as my teacher and channel, has enabled me to let go of an enormous amount of fear, doubt, insecurity, and hesitation about channeling. He has enlightened me little by little, and enabled others through his teachings to be enlightened also. Through his workshops, seminars, and courses he has taught a very simple truth, that we all are our own Masters and the creators of our own reality." The Sixth Sense Radio Show begins at 7:00 pm Pacific time.
Again & Again
Again & Again allows you to break the cycle of repeating life lessons by understanding your karmic path and world events. Take control of your life using the tools of astrology and development of your own intuitive gifts. On this week's show, Karen Downing and Valerie Shinn intuitively answer your questions all show. Please join the fun in the chat room to ask Karen or Valerie a question on any topic. The show will start out with a quick discussion of what is going on in the sky, before the questions and answers begin. As always, an affirmation, crystal and Bach Flower Essence will be discussed as healing tools for the topic at hand. Again & Again begins at 6:00 pm Pacific time.
The Energies of Your Life
What is "dis-ease" and where does it come from? On this week's show, Jean Luo and Dennis Dossett will talk about these questions, as well as strategies and tips for dealing with "dis-ease." The Energies of Your Life is more than just a radio show; it is a journey of self-healing & self-awareness. By understanding the energy in your life, you are able to clear energy blockages that can create further problems. Jean and Dennis will show you not only how to heal pain, relationships and emotional distress, but also how to transform your physical body, mind and emotions for self-healing.
Live questions are welcome on all shows, and anyone can participate in the conversation in the chat room, or by calling in during the shows. Visit the Margaret M Productions webcast page during the live radio shows to join in the fun. You sure don't want to miss these ground-breaking radio shows, but if you do, archives of past shows are available as well.