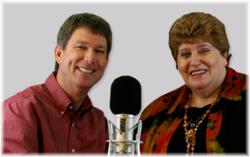 Beauty can't amuse you, but brainwork - reading, writing, thinking - can. – Helen Gurley Brown
Issaquah, WA (PRWEB) August 23, 2012
Margaret M Productions announces this week's line up of topics on metaphysical talk radio; learn about anything from Psychic Readings to the Astrology of Helen Gurley Brown. All shows are broadcast in a live video webcast on MargaretMcElroy.com and the audio portion is also streamed live to Blog Talk Radio.
The Sixth Sense
Margaret and Alan McElroy will enlighten your life on The Sixth Sense. On this week's show, Margaret McElroy will be doing psychic and past life readings on-air. Margaret's insight and years of experience will inform and uplift anyone in the audience. Margaret and Alan will often begin the show discussing current events and also by sharing the teachings of Maitreya. Maitreya is often described as the future Buddha and can also be referred to as Buddha Maitreya or Mi Le Fo.
Margaret McElroy describes Maitreya in the following way: "Over the last 20 years, Maitreya, as my teacher and channel, has enabled me to let go of an enormous amount of fear, doubt, insecurity, and hesitation about channeling. He has enlightened me little by little, and enabled others through his teachings to be enlightened also. Through his workshops, seminars, and courses he has taught a very simple truth, that we all are our own Masters and the creators of our own reality." The Sixth Sense Radio Show begins at 7:00 pm Pacific time.
Again & Again
On this week's show, Karen Downing and Valerie Shinn discuss the Astrological birth chart of Cosmopolitan's longtime editor-in-chief, Helen Gurley Brown. They will examine Ms. Brown's life lessons and how she impacted the lives of others. Karen and Valerie will also discuss patterns within Helen Gurley Brown's astrology chart and how those patterns related to her life. Please join the fun in the chat room to ask Karen or Valerie a question on any topic. Again & Again shares information to assist anyone in taking control of their life by using astrology and the development of innate intuitive gifts. Each show begins with a quick discussion of what is taking place in the sky. As always, an affirmation, crystal and Bach Flower Essence will be discussed as healing tools for the topic at hand. Again & Again begins at 6:00 pm Pacific time.
The Energies of Your Life
What is the difference between "Spiritual Astrology" and "Mundane Astrology" and what difference does it make? On this week's show, Jean Luo and Dennis Dossett will talk about these questions as well as practical applications for better understanding your life and making more informed choices. The Energies of Your Life is more than just a radio show; it is a journey of self-healing & self-awareness. By understanding the energy in your life, you are able to clear energy blockages that can create further problems. Jean and Dennis will show you not only how to heal pain, relationships and emotional distress, but also how to transform your physical body, mind and emotions for self-healing.
Live questions are welcome on all shows, and anyone can participate in the conversation in the chat room, or by calling in during the shows. Visit the Margaret M Productions webcast page during the live radio shows to join in the fun. You sure don't want to miss these ground-breaking radio shows, but if you do, archives of past shows are available as well.