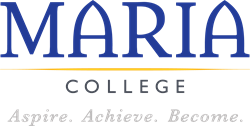 Our college is a small, close-knit community in which we truly have the opportunity to invest in the success of each one of our students - Dr. Lea A. Johnson, president
Albany, NY (PRWEB) April 10, 2013
Maria College, a Sister of Mercy-sponsored higher education institution located in the Capital Region, is pleased to announce today the public unveiling of its new brand identity, with features including a new logo and tag line, "Aspire. Achieve. Become."
Representing an individual's transition from new student to post-graduate life, "Aspire. Achieve. Become." reflects Maria College's mission to help individuals acquire knowledge and be better prepared to serve others as members of the community beyond their college studies.
This rebranding comes on the heels of a number of recent changes at Maria College, including the introduction of Dr. Lea A. Johnson in July 2012 as president. Since her appointment, the college campus has opened a new café for faculty and students, relocated and expanded the college bookstore, added a new Career Services office and begun remodeling efforts throughout the entire campus. Additional program developments for students in day, evening, Weekend College and online programs are a top priority.
"Our college is a small, close-knit community in which we truly have the opportunity to invest in the success of each one of our students," said Dr. Johnson. "The developments over the past year emphasize our focus on the individuals we work with everyday, whose energy and eagerness to learn is contagious."
The rebrand rolls out publicly ahead of Maria College's April 18 Spring Open House event, at which time prospective students and families can tour the campus and interact with faculty and staff to learn more about the college's available programs. Qualified individuals who bring their transcript will be accepted to the college that evening. For more information about the Spring Open House or Maria College's programs, visit http://mariacollege.edu.
About Maria College
Maria College is a private, nonprofit college located in Albany, New York. Founded in 1958 by the Religious Sisters of Mercy, the college currently serves more than 1,000 students who attend day, evening, Weekend College and online courses. From its founding, the College's mission has been to educate for service to the greater Capital Region as well as the communities in which its graduates live and work. To find out more about Maria College, visit http://mariacollege.edu/.
# # #