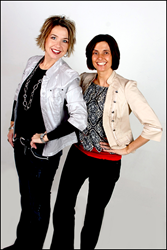 Joanna and I are true partners, and we feed off each other's strengths.
Tiffin, Ohio (PRWEB) June 18, 2013
Top Echelon Network, an elite recruitment network of highly specialized search firms, passed out 10 regional awards to member recruiters for their performance during the 2012 calendar year.
One of those regions was the East North Central Region, and executive recruiter Maria Hemminger of MJ Recruiters, LLC in Tiffin, Ohio won the 2012 East North Central Region Award.
ABOUT THIS AWARD:
Top Echelon Network's regional awards are based on a points system. Network recruiters can earn points in a variety of ways, including making split placements with another Network recruiter, conducting phone interviews, scheduling face-to-face interviews, and meeting other Network recruiters in person. Hemminger accumulated the most points in the East North Central Region.
TOP FIVE RECRUITERS IN THE REGION:
In addition to Hemminger, Top Echelon's top five Network recruiters in the East North Central Region for 2012 included the following:

Chuck Szajkovics of Bulldog Recruiters, LLC in Grayslake, Illinois
David M. Sgro of True North Consultants, Inc. in North Ridgeville, Ohio
Michael Stuck of Gables Search Group, Inc. in Willoughby, Ohio
Karen Akbal-Sturgeon of KLA Industries in Cincinnati, Ohio
ABOUT MJ RECRUITERS, LLC:
MJ Recruiters, LLC was formed in the summer of 2005 as a partnership between Maria Hemminger and Joanna Spaun. Combined, Maria and Joanna have 25 years of recruitment experience, spending almost 10 years working together. In August of 2010, Joanna and Maria celebrated five years of business and successfully completing over 180 searches during those five years. MJ Recruiters, LLC has been a Preferred Member recruiter of Top Echelon Network since August 4, 2005.
QUOTABLE:
"Top Echelon is a key part of our business mix," said Hemminger. "Joining the Network in 2005 was the first step in our business plan when forming MJ Recruiters and one of the smartest things that we have done. The goal of MJ Recruiters is always to fill our clients' needs as quickly as we can . . . whether it's a split placement or not. The partnerships that we've formed in the Network have fueled our firm's client perception and have created success in our business mix. We consistently market to our clients the ability that we have to create split business in the Network to fill their needs more quickly. When we fill their needs more quickly . . . we get more job orders!
"There is no doubt: our status in the Network is a reflection of our team. Joanna and I are true partners and feed off each other's strengths. This accomplishment is just as much hers as it is mine."
ABOUT TOP ECHELON NETWORK:
Nearly 400 companies from all major industries are part of the Top Echelon recruitment network, founded in 1988 and based in Canton, Ohio. Members of the Network can search open job orders and qualified candidates, set up automated alerts, and share information with each other for the purpose of making split placements. Find out more about how a split placement network operates.