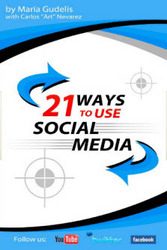 Using just one way in this social media book catapulted one business to over 2,000 Facebook fans in 8 days.
Salt Lake City, UT (PRWEB) March 30, 2010
Maria Gudelis is pleased to announce the release of another book, 21 Ways To Use Social Media ((ISBN: 978-1450533805, Softcover, $17.00) to accompany the Social Media Series books published by Wildhorse Performance Marketing.
This concise book on 21 specific tactics to use social media serves as an excellent and proven resource for business owners and executives. "Just one of the social media tactics involving the combined use of a contest and Facebook fanpage brought over 2,200 fans within 8 days to one business client" stated Maria Gudelis, VP of Social Marketing, Wildhorse Performance Marketing.
Social marketing usage in the last year has doubled for small business and the new corporate website of this decade is the Facebook fanpage. The trends of social media usage cannot be ignored and the Internet as the top marketing channel for any business is something that should be explored by all entrepreneurs, business owners and marketing executives.
Previous to the book, "21 Ways to Use Social Media", Maria Gudelis has co-authored with Tina Williams the book, "The Twitter Business Advantage, KLT, Building Your Business Around the Clock with Know, Like, Trust Factor". Social media expert Tina Williams when interviewed said: "Have you been hearing this strange term and seeing the little Blue Bird everywhere these days? I don't know about you, but every day I see some news article or story about Twitter. You need to be on Twitter! The internet is buzzing with local users, buyers, conversations and your competition! Twitter will help you tap into that huge and growing marketplace online, reduce your marketing costs and position you to increase your profits. "
About Maria Gudelis
Maria Gudelis is a world leading marketing consultant who has helped start-up businesses to Fortune 500 companies instantly breakthrough profit ceilings. You can listen to the Maria Gudelis radio show to get more insights on leading internet marketing trends and tips.
###