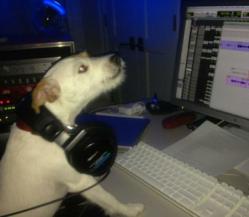 While Mariah Carey is making headlines with gossip about joining American Idol and buzz about her upcoming Summer album; the chart-topping singer's Jack Russell Terriers are making headlines at Dogington Post.
Boca Raton, FL (PRWEB) July 16, 2012
Grammy Award winning singer, songwriter and actress, Mariah Carey is no stranger seeing her name in the news. Most recently she's in talks with American Idol producers to join the judges panel on the hit talent show. Breaking news reported the sale of the Bahamas home, where she and husband Nick Cannon were wed. Anticipation over the release of Carey's new Summer 2012 album is creating a lot of buzz since the pop sensation put her music career on hold last year with the birth of her twins, Morocco and Monroe. Mimi's pups, however, are making headlines at Dogington Post.
Carey has been teasing fans and press with news of her upcoming album, dropping hints via her Twitter page. One tweet in particular included an adorable photo of one of the singer's five Jack Russell Terriers, Jill E. Beans, wearing headphones and lending a paw in the studio. Carey told fans, "Just finished a long session with Jill e beans. She's producing now. Haaaaaa."
It's no secret that Mariah Carey is seriously devoted to her dogs. She's got a pack of five Jack Russells – Cha Cha, Jackie Lambchops, Squeak E. Beans, JJ, and Jill E. Beans. The pampered pooches help Carey with her workouts, make appearances in music videos, and join the singer in the studio. Carey even took her pups to the hospital for the birth of her twin babies and put them in pet therapy to prepare them for the arrival of the twins.
Dogington Post has included many features on the singer's pups, including Jill E. Beans' recent appearance producing Carey's summer album; Fans can see Carey's video for her Christmas hit with Justin Bieber, "All I Want For Christmas Is You", in which Jill E. Beans makes a cameo; and more tweets from the star including one of her working out with her five dogs and another of Jill E. jumping for strawberries.
"Dogington Post is the online source for all the latest news about celebrities and their pets," said Brooke Arnold, Public Relations for the site. "Mariah Carey is truly passionate about her pups. She's very active with them, so they make a lot of headlines!"
For more information about Dogington Post featuring Mariah Carey's pampered pooches, visit http://dogingtonpost.com or check them out on YouTube.
About Dogington Post:
DogingtonPost.com was created for the love of dogs. It promises a forum of informative articles, newsworthy dog stories, health and breed information, and heartwarming videos. The site addresses current issues affecting dogs and their human parents – from serious health concerns to lifestyle issues on feeding, grooming and the overall well-being and mental health of dogs. It is the Internet newspaper, all about dogs.