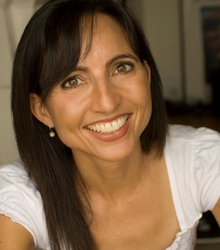 Palo Alto, CA (PRWEB) August 12, 2010
Cal Berkeley grad Maria Murnane will be at Morocco's in San Jose on August 25 at 7 p.m. to share the story behind her award-winning romantic comedy, Perfect on Paper: the (Mis)adventures of Waverly Bryson. Murnane, a former Silicon Valley PR executive who abandoned a successful career to pursue a more fulfilling life, will tell the "story behind the story," an entertaining tale of courage, passion and perseverance that has inspired audiences across the country to follow their dreams—no matter what.
"With Waverly Bryson's character in Perfect on Paper, Maria Murnane has filled the void we've been missing since Carrie Bradshaw left," said event organizer Sallie Severns, Silicon Valley Media VP and herself a Cal alumni.
After her speech, Maria looks forward to meeting people, chatting, and signing books.
Maria was a Regents' and Chancellor's Scholar at Cal, where she graduated with high honors in English and Spanish. She also received a master's degree in integrated marketing communications from Northwestern University. She currently lives in New York City. More information is available at http://www.mariamurnane.com
# # #