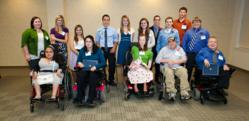 Wheaton, IL (PRWEB) June 12, 2013
Who: 20 students with physical disabilities, who are looking to continue their post-high school education, will be honored with scholarship awards from the Marianjoy Scholarship Program. Recipients are from the greater Chicagoland area including Wheaton, Glen Ellyn, Bartlett, Aurora, Naperville, Glenview, and Villa Park.
What: The reception event will give winners the opportunity to accept their scholarships, thank family and friends while saying a few words regarding their future educational plans.
When: June 13, 2013 – Reception begins at 7:00 p.m.
Where: Marianjoy Rehabilitation Hospital / Marianjoy Conference Center – Outpatient Pavilion (follow the signs from within the parking garage). 26W171 Roosevelt Road in Wheaton, Illinois.
***Photographers and Reporters are invited to attend***
About Marianjoy Rehabilitation Hospital
Marianjoy Rehabilitation Hospital is a nonprofit teaching hospital in Wheaton, Illinois, dedicated to the delivery of physical medicine and rehabilitation programs including stroke, neuromuscular, orthopedic, brain injury, spinal cord injury, and pediatrics. Marianjoy's state-of-the-art, 128 private room replacement hospital is designed to enhance the naturally holistic approach to rehabilitation. Founded in 1972, Marianjoy Rehabilitation Hospital maintains an extensive network of inpatient, subacute, and outpatient sites and physician clinics throughout the Chicago area. Marianjoy is a member of Wheaton Franciscan Healthcare. To learn more, visit http://www.marianjoy.org.