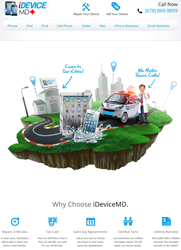 "Most consumers are surprised by how much their old iPhone or old iPad is worth, we are happy to make consumers a fair offer for their old device and the consumer is happy to have the cash." Dru Pio - President
Marietta, GA (PRWEB) February 28, 2014
iDeviceMD's Marietta store, located at 1255 Johnson Ferry Road, Suite 11 in Marietta, Georgia is now accepting used iPhones and iPads for purchase. The established leader in iPhone repair, iPad repair and Cell Phone repair services has now extended their services to include a used iPhone and iPad purchasing program. This attractive program gives consumers from Marietta, Woodstock, Kennesaw and the surrounding areas the opportunity to turn their used devices into cash.
The new buyback program provides a win-win situation for both iDeviceMD and it's customers. With this program, iDeviceMD can take advantage of the tremendous opportunity provided by the exploding used iPad and iPhone resale market. In turn, iDeviceMD's customers are able to benefit from used devices that are lying around in their homes, unused. For many consumers, trading in their old devices for cash provides them with the means to upgrade to newer technology.
Used iPhones and iPads have been flooding the market since the introductions of the iPhone 4 and the iPad 2 by Apple. According to an article published in the September 9, 2013 edition of AppleInsider, smartphones now account for 56% of the U.S. market and Apple's iPhone has 25% of this market share. According to Dru Pio, iDeviceMD President, "Most consumers are surprised by how much their old iPhone or old iPad is worth, we are happy to make consumers a fair offer for their old device and the consumer is happy to have the cash." With technology continuing to evolve and Americans becoming more and more technologically savvy, the trend of upgrading to the latest technology is expected to continue far into the future.
About iDeviceMD:
iDeviceMD is an electronic device repair company with locations throughout the United States including locations in the greater Atlanta metropolitan area. They offer fast, reliable repair services for iPhones, iPads, Cell Phones and other electronic devices. By offering specialized repair services, iDeviceMD makes it easier and more convenient for consumers to get their electronic devices repaired. iDeviceMD is currently offering licensing programs throughout the greater Atlanta metropolitan area as well as the rest of the United States.
If you would like to get more information about iDeviceMD or their iPhone and iPad purchasing program, please visit their website at http://www.idevicemd.com.