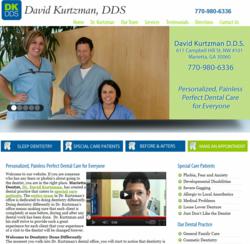 The new technology means we have the best possible diagnostics which ensures the appropriate treatment and best chance for the desired outcome for our patients.
David Kurtzman, DDS
Marietta, GA (PRWEB) January 31, 2013
Marietta Dentist, Dr. David Kurtzman of David Kurtzman, DDS specializes in Sedation Dentistry, Hospital Dentistry and caring for special care patients. This may include patients who have dental phobias, patients who have development disabilities, patients with physical disabilities and patients who are simply looking for an alternative to traditional dental treatment. He is currently on staff at Wellstar Windy Hill Hospital and has access to an operating room that is especially equipped for cosmetic, restorative and implant dentistry.
Recently, Wellstar Kennestone Hospital purchased an Aribex NOMAD® Pro handheld x-ray system. The state-of-the-art, award-winning x-ray system offers many advantages over conventional x-ray systems including a lighter weight and a cordless design which improves radiology speed, convenience and efficiency. This advanced technology gives Dr. Kurtzman the ability to take x-rays from any angle with the patient in any position when he is providing dental treatment in the hospital setting. This is particularly beneficial for patients who have developmental or physical disabilities or who have difficulties sitting up or maintaining certain positions. By leveraging this greater diagnostic flexibility, Dr. Kurtzman is better able to diagnose problems and this leads to better solutions for patients. The investment in the Aribex NOMAD Pro® system enables Dr. Kurtzman to offer the highest level of safety, quality and patient care to patients who receive dental care at Wellstar Kennestone Hospital.
This investment in cutting-edge technology also offers many advantages to WellStar Kennestone Hospital as the NOMAD Pro® does the work of multiple conventional x-rays systems, making it an economical solution. It also saves time for both the patients and the operator and reduces their exposure to radiation.
About David Kurtzman, DDS:
David Kurtzman, DDS is a dental practice located in Marietta, GA. Founder, Dr. David Kurtzman, specializes in treating special care patients and their practice offers Sedation Dentistry as well as Hospital Dentistry for patients with special needs including dental phobias, developmental disabilities, physical disabilities, and medical problems. Their practice also welcomes patients who are simply looking for a more pleasant dental experience and offers comprehensive general, cosmetic and restorative dental care as well as implant dentistry. For more information regarding Dr. David Kurtzman or the services offered by David Kurtzman, DDS, please call their office at 770-980-6336 or log onto their website at http://www.drdavidkurtzman.com.