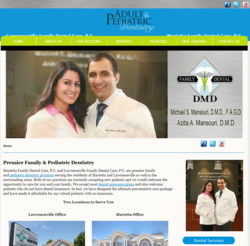 It all comes down to wanting to provide something greater to my community. The services provided by Dentistry from the Heart helps more than just a patients tooth, it gives them a renewed reason to smile.
Dr. Mansouri
Marietta, GA (PRWEB) September 26, 2012
Drs Azita and Michael Mansouri, owners of Marietta Family Dental Care P.C. is pleased to announce the second annual "Dentistry From The Heart Event" to be held in East Cobb. Hosts Drs. Michael and Azita Mansouri have teamed up with 16 other dentists and over 70 dental professionals to offer a day of free dentistry for the residents of East Cobb and the surrounding counties.
Dr. Michael Mansouri is a long time resident of East Cobb and graduated from Walton High School. He and his wife, Azita, are excited about the opportunity to give back to their community by providing free dental care such as cleanings, fillings and extractions. The goal of the event is to provide high quality dental care for those who could not otherwise afford it and to raise dental awareness. Last year at this same event they were able to treat more than 250 patients, with treatments valued at over $150,000. Due to the shortage of such volunteer events and the growing number of Americans who lack dental insurance, they are anticipating hundreds of people who are willing to camp out overnight for ordinarily costly yet necessary dental treatment.
The event will take place on Saturday, November 10th from 6 AM until 4 PM at Marietta Family Dental Care P.C. located at 4270 Lower Roswell Road, Marietta, GA 30068. It is recommended that patients arrive early, as adults 18 and over will be seen on a first come, first served basis. In the past, lines began forming as early as 8 AM the day before the event.
Drs. Michael and Azita Mansouri feel that "Dentistry From the Heart" is a great way to address many dental problems and are very excited to be able to bring this important event to East Cobb for the first time ever.
About Marietta Family Dental Care P.C.:
Marietta Family Dental Care P.C. is a comprehensive, family dental practice located in Marietta, GA and serving patients from East Cobb and the surrounding areas. They offer a full range of preventative, general, restorative and cosmetic dental care for children and adults of all ages.
For more information, please visit http://www.NaturalSmile.biz and click on "Giving Back" or visit http://www.dentistryfromtheheart.org.