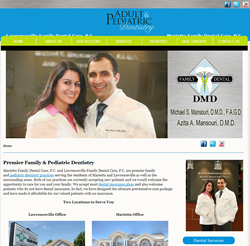 Offering free dental care to people in need from East Cobb and the surrounding areas is just one way that we can give back to the community that has supported our dental practice since we opened our doors.-
Dr. Michael Mansouri
Atlanta, GA (PRWEB) September 11, 2013
Drs. Michael and Azita Mansouri of Marietta Family Dental Care P.C. are pleased to announce that they are hosting their 3rd Annual Free Dental Day on November 9, 2013. The event will take place from 6:00 a.m. to 4:00 p.m. at their dental office, located at 4720 Lower Roswell Road in Marietta, Georgia. During this day, individuals aged 18 and older can receive dental care provided by a team of volunteer dentists and dental support professionals. Patients can choose to receive a filling, extraction or professional dental cleaning. The limit will be one procedure per patient, and treatment will be given on a first-come, first-served basis.
Last year during this event, Drs. Michael and Azita Mansouri teamed up with 16 other dentists and over 110 volunteers to give away over $150,000 worth of dental care. With the help of their volunteers, they were able to assist almost 300 people. People started lining up as early as 7:00 a.m. the day before the event last year. The crowd is expected to be even larger this year. Dr. Michael Mansouri had this to say about the event, "Offering free dental care to people in need from East Cobb and the surrounding areas is just one way that we can give back to the community that has supported our dental practice since we opened our doors. Azita and I realize that access to dental care is a huge problem for many people and that there is a large population of underserved people right here in our own community. We are happy to be able to host a day of dentistry and we hope those in need will take this opportunity to get the needed dental care that they would not otherwise be able to afford."
About Marietta Family Dental Care:
Marietta Family Dental Care, P.C. is a family dental practice serving East Cobb and the surrounding areas. Their comprehensive Marietta dental practice features two experienced dentists, Drs. Michael and Azita Mansouri, and offers general dentistry, restorative dentistry, cosmetic dentistry, oral surgery, endodontics and pediatric dentistry. If you would like to get more information about their practice or this event, you can visit their website at http://www.naturalsmile.biz and click on "Free Dental" or visit http://www.dentistryfromtheheart.org.