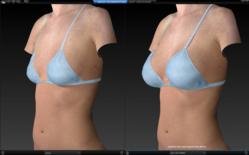 We can make changes as needed, and patients can "try on" different sizes and looks until we agree on a final look in advance
Atlanta, GA (PRWEB) May 07, 2013
Marietta Plastic Surgery, a leading practice serving the Atlanta area for over 20 years, announced the addition of new 3D imaging technology that allows patients to see what they may look like after prospective facial, breast or body procedures. Developed by Canfield, a leading provider of medical photography systems, the VECTRA® XT 3D Camera and Sculptor software help patients visualize what their results may be.
The process starts with a VECTRA session which produces a three-dimensional high resolution photograph of the patient. Then, using Sculptor software, the surgeons at Marietta Plastic Surgery (MPS) are able to simulate the expected results of a variety of aesthetic procedures.
"This technology is a huge benefit to our patients and really helps them make decisions," said Dr. Michael McNeel, MD, FACS. "For the first time, they're able to see a 3D picture of themselves with their new look. Because it's in 3D, I can rotate their picture to any viewpoint and they can then examine the desired result. We can make changes as needed, and patients can "try on" different sizes and looks until we agree on a final look in advance."
Marietta Plastic Surgery performs all types of plastic and cosmetic surgical procedures and is a well-known practice for breast augmentation and reconstruction procedures. MPS is one of just a few practices in the metro Atlanta area to offer the advantage of VECTRA imaging.
About Marietta Plastic Surgery
The team of plastic surgeons at Marietta Plastic Surgery is known for providing discerning patients with results that enhance their individual personality and character, while giving them the security of knowing they are supported and cared for by an entire team of highly skilled doctors. Certified by the American Board of Plastic Surgery, Drs. West, McNeel, Fabian, Hanna and Symbas perform all procedures, including Botox® Cosmetic injections, putting their patients in the most skilled of hands. Serving the metro Atlanta area for over 20 years, Marietta Plastic Surgery has two conveniently located offices in Marietta, at I-75 and Canton Rd, and in Woodstock, at I-575 and Towne Lake Parkway. Follow them on Facebook at http://www.facebook.com/mariettaplasticsurgery or contact them at http://www.mariettaplasticsurgery.com, 770-425-0118.