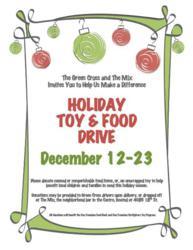 We encourage our supporters to donate something extra this holiday season.
San Francisco, CA (PRWEB) December 12, 2011
The holidays are a particularly difficult time of year for children and families in San Francisco. 150,000 San Franciscans are living in poverty. One in five children in San Francisco is unable to regularly get enough food to meet his or her nutritional needs. As part of The Green Cross' ongoing commitment to providing support to local charity organizations, the mobile San Francisco marijuana dispensary has teamed up with The Mix, the Castro neighborhood bar, for a food and toy drive to benefit the San Francisco Food Bank and the San Francisco Firefighter's Toy Program.
"We have selected two fantastic organizations that help families right here in San Francisco who are facing tough times this holiday season," said Kevin Reed, founder and president of The Green Cross. "We encourage our supporters to donate something extra this holiday season and drop it off at The Mix or provide it to one of our drivers upon delivery before Dec. 23."
The San Francisco Food Bank, which serves nearly 225,000 people in San Francisco and Marin, is facing a $161,000 loss in federal funding this year—the equivalent of 483,000 meals. Donating nonperishable food items will help ensure local families, children, seniors, and homeless individuals get enough to eat. The most-needed items are rice and pasta, canned fruit, tuna, canned meat, soups, stews and chili, peanut butter and cereal.
The San Francisco Firefighter's Toy Program, the oldest toy drive of its kind in the nation and the largest in San Francisco, has been run by the San Francisco Fire Fighters Union, Local 798, since 1949. Last year, the program was able to provide 200,000 toys to 40,000 disadvantaged kids. Firefighters provide the toys not just to families, but also shelters for abused women and children, inner-city schools, neighborhood groups, children's cancer wards, and pediatric AIDS units.
From December 12-23, Green Cross members and supporters are encouraged to donate canned or nonperishable food items or an unwrapped toy, which will be given to these worthy organizations. Donations may be provided to the Green Cross driver upon delivery of an order, or dropped off at The Mix, located at 4086 18th Street in the Castro.
As a nonprofit community organization, The Green Cross believes in the importance of supporting charities that work to improve the lives of people in the community and around the world. Earlier this year, Green Cross members and supporters helped to raise several thousand dollars to benefit the Red Cross Japan Relief Fund.
"We believe we have a responsibility to help our neighbors and contribute to the common good," noted Reed. "It's part of The Green Cross philosophy, now and forever."
For more information about the holiday food and toy drive, or any of The Green Cross's products or services, call them at (415) 992-5744 or visit them on the web at http://www.TheGreenCross.org.
About The Green Cross
The Green Cross, a San Francisco medical cannabis dispensing collective, organized in 2004 and has become known for our safe and discreet delivery service, commitment to social and environmental responsibility, absolute compliance with state and local law, and our professional, patient-centric operation style. Not a typical San Francisco cannabis club, The Green Cross is licensed by the City and County of San Francisco to operate exclusively as a delivery service. The Green Cross offers dozens of strain varieties, medicated edibles and smoking alternatives directly to patients with the friendly service and low prices their members have come to expect.
# # #