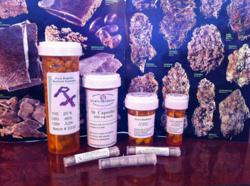 As for me and my herbal cannabis consumption, I now take several capsules per day.
San Francisco, CA (PRWEB) March 03, 2011
Vitamins, minerals, omega fatty acids, phyto-nutrients, dietary fiber, and protein are what one would expect to find in vegetables, so God Med, a San Francisco Bay Area cannabis pill company, has created God Med Cannabis Capsules that push the envelope of marijuana healing capacities. The two-ingredient recipe of cannabis flowers and coconut oil, encased in a vegetable capsules from Capsugel, provide a non-pharmaceutical and all-natural road to relief.
First presented at the HempCon 2011 Medical Marijuana Show, God Med Cannabis Capsules are made with organic cannabis flowers and raw, virgin, organic certified, cold pressed/unrefined, kosher certified coconut oil. Each batch is tested for THC% & CBD, CBN Content, and the potency info is displayed on each label. The cannabis is only slightly refined and provides the patient with all 82 known medicines of the herb.
"As for me and my herbal cannabis consumption, I now take several capsules per day," said GodMed customer Steve. "The results have been amazing. I have lost 30 pounds, my blood pressure is down 20% (lowest I can remember), I feel better, and I am accomplishing more than I have since my youth."
God Med Cannabis Capsules are different from other pills because they are made with slightly refined, outdoor, organic cannabis flowers that are activated in a dual process. This provides an initial quick release of medicine, aided by the infused coconut oil, and relief lasting for hours.
The Cannabis Capsules provide the full spectrum of phytocannabinoids, cannabinoid acids, terpenoids, flavonoids, and phytosteral components, many of which are not available through other methods. The pills contain antibiotic, antifungal, anti-inflammatory, and antidepressant properties that provide relief for a multitude of illnesses. For instance, cannabinoid acids from the cannabis plant seem to inhibit breast cancer cells and THCV seems to delay the progression of Parkinson's disease.
God Med Cannabis Capsules are available at various San Francisco Bay Area marijuana dispensaries in the North Bay, South Bay, and East Bay. For more information about Cannabis Capsules or any of God Med's services, view them on the web at http://godmed.com/.
About God Med
God Med is a medical marijuana company that specializes in the production of cannabis capsules. God Med serves the entire San Francisco Bay Area, including the communities of Alameda, Antioch, Berkeley, Castro Valley, Concord, Daly City, Dublin, Emeryville, Fairfield, Fremont, Hayward, Livermore, Marin, Martinez, Mill Valley, Mountain View, Napa, Novato, Oakland, Palo Alto, Pleasanton, Redwood City, Richmond, San Bruno, San Francisco, San Jose, San Mateo, San Rafael, San Ramon, Santa Clara, Sonoma County, Solano County, Vacaville, Vallejo, and Walnut Creek.
###