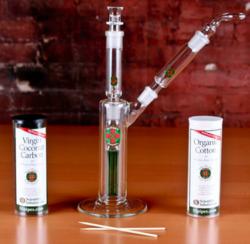 We aim to bring you a revolutionary new line of health enhancement products
San Jose, CA (PRWEB) September 07, 2011
God Med, a medical marijuana company known for its innovative marijuana capsules, has just launched a sister site, GodMedGoods.com, to bring the finest lifestyle and health improvement products to online consumers around the world. The site is starting out with a line of triple-filtered water pipes, and will soon expand to offer a number of items designed to increase consumers' overall well-being.
"We aim to bring you a revolutionary new line of health enhancement products that specialize in valuable harm reduction techniques to provide an overall better experience," says God Med founder Steve Casebeer. "We hand-pick, test and provide only the healthiest, safest, purest forms of inhalation on the market today."
The website features McFinn's Original Triple-Filtered Water Pipes, created by Scientific Inhalations. This revolution in filtering technology uses three levels of filters to extract tars and impurities. The first level is a Virgin Coconut Carbon filter, which passes crushed coconut shells through a 2,000° steam activation process, creating microscopic pores in the carbon that traps tars and impurities. The second level is water, to cool the smoke bubbles. The third level is an Organic Cotton filter, made of cotton that is grown without the use of pesticides or fertilizer, which removes impurities and creates smoother inhalation.
"McFinn's Original Triple-Filter System was created to help clean up your personal inner environment by providing you with a filtration system developed to give you a cleaner, cooler, smoother experience while still maintaining the potency of your smoke," according to Scientific Inhalations.
GodMedGoods.com carries the Complete McFinn Water Pipe with Guard, McFinn's Triple Filtered Water Pipe, Complete McFinn Water Pipe w/Guard and 4 Slot Ashcatcher, McFinn's Original Bubbler, refills of McFinn's Activated Virgin Coconut Carbon and McFinn's Organic Cotton, and specialty filter tubes, slides and mouthpieces.
GodMedGoods.com is planning to carry a wide range of products designed to maximize health benefits in the near future.
For more information about McFinn's Triple-Filtered Water Pipes or other upcoming God Med Goods, call 800-488-7039 or visit http://www.GodMedGoods.com. For more information about medical marijuana pills or any of God Med's services, view them on the web at http://godmed.com/.
About God Med
God Med is a California medical marijuana company that specializes in the production of medical cannabis capsules. God Med capsules are made from nothing but Emerald Triangle cannabis buds, kif, and non-GMO soy lecithin emulsifier inside a veg capsule. These medical marijuana pills deliver the full spectrum of components of medical marijuana flowers in a convenient, discrete, easy-to-swallow capsule. Patients have used the medicine to naturally treat hundreds of ailments from headaches to depression to cancer without the sometimes debilitating side effects of prescription medications.
God Med capsules are available at a number of California medical marijuana dispensaries and online at http://www.GodsMedicine.us.
###