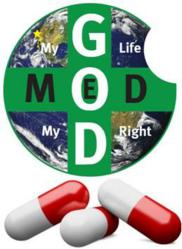 We're making it easier for dispensaries to stock up
San Jose, CA (PRWEB) September 10, 2011
God Med, a medical marijuana company known for its innovative marijuana capsules, has just launched a sister site, GodsMedicine.us. The new website is designed to make it easy for dispensaries to place an order for God Med capsules.
"We wanted to make sure that the many people who rely on God Med to help with a myriad of health issues will get their refills on time, so we're making it easier for dispensaries to stock up," explains God Med founder Steve Casebeer.
Dispensaries that already carry or are interested in carrying God Med marijuana edibles simply go to GodsMedicine.us, click on the "Join" tab, and fill out a membership form, which they can either email or fax to God Med, along with a copy of their seller's permit. Or they can simply fill put in a call request, and a God Med representative will help them place the order over the phone. God Med will come to San Francisco Bay Area dispensaries and scan their paperwork on site.
Once dispensaries have an account, they can simply log in to see the range of ordering options available. Each available medicine is listed, along with a picture and other relevant information. Dispensaries can choose the desired amount of each medicine, and place a direct order. Tax and delivery fees are included. Dispensaries can also view their current order status and invoices from past orders on the website.
Current customers and new dispensaries are asked to start using GodsMedicine.us for all their cannabis capsule needs. "This will allow us to better process and track your order resulting in faster delivery. Once your order is received, we will also send out a Dispensary Display pack with samples and brochures!" says Steve.
As a bonus to dispensaries that sign up soon, God Med is offering a 10% discount for all orders placed before October 8th.
For more information about ordering God Med online, call or fax (877) 592-7727, or visit http://www.GodsMedicine.us. For more information about medical marijuana pills or any of God Med's services, visit GodMed.com.
About God Med
God Med is a California medical marijuana company that specializes in the production of medical cannabis capsules. God Med capsules are made from nothing but Emerald Triangle cannabis buds, kif, and non-GMO soy lecithin emulsifier inside a veg capsule. These medical marijuana pills deliver the full spectrum of components of medical marijuana flowers in a convenient, discrete, easy-to-swallow capsule. Patients have used the medicine to naturally treat hundreds of ailments from headaches to depression to cancer without the sometimes debilitating side effects of prescription medications.
God Med capsules are available at a number of California medical marijuana dispensaries and online at http://www.GodsMedicine.us. God Med also offers revolutionary health enhancement products at http://www.GodMedGoods.com
###