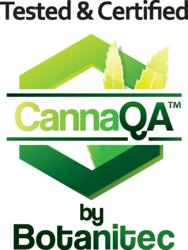 Medical cannabis patients, especially those who are immune compromised, need to know their cannabis products are free of any chemical, biological, or physical impurities.
Fairfield, CA (PRWEB) February 02, 2012
Botanitec, Inc., an innovative new Bay Area mobile cannabis lab, is proud to introduce CannaQA, an unbiased third party medicinal cannabis safety certification program. Medicine bearing the CannaQA seal has been tested for chemical contaminants, biological contaminants, and physical material hazards. Testing is done by random sample, and the nitrogen-sealed packaging bears traceable lot information.
Many testing programs simply test for potency, but potency values by themselves don't represent the overall quality of a cannabis product. With Botanitec's CannaQA mark, patients know their product has been thoroughly screened and tested according to proper QA/QC accepted sampling plans and sealed to ensure freshness and purity.
"Medical cannabis patients, especially those who are immune compromised, need to know their cannabis products are free of any chemical, biological, or physical impurities," explains Mary Williams, founder of Botanitec.
CannaQA certification uses random statistically based sampling plans to provide an accurate representation of the production lot. Some labs just ask clients to submit a small sample, which easily skews the data, particularly for potency results.
"It is human nature to subconsciously pick 'the best' flowers, which artificially inflate the potency values," notes Mary. "Test results should represent the entire lot."
The CannaQA program also includes implementation of lot date code traceability for transparency and accountability. Medical marijuana patients even have the ability to access the test results of their product online.
CannaQA safety certification includes nitrogen packaging of fully tested material to preserve cannabinoid values and purity. The packaging is then tamper-proof labeled with the lot test code number appearing on the product label for product integrity and lot traceability. CannaQA labels ensure the product is not contaminated with microbes, pesticides or other toxic agents, and that the final product is of consistent high quality.
Botanitec designed the CannaQA program to mitigate contamination risks at all levels of production, including cultivation, harvesting, processing, handling, storage, packaging, and distribution. Deterioration and contamination, especially microbial contamination, can occur at any one of these stages. Growers and dispensaries participate in the CannaQA program to demonstrate their commitment to establishing best practices to minimize these undesirable factors.
Collective members trust the CannaQA mark to indicate that adequate quality assurance systems are in place. "Make sure your collective, dispensary, and upstream cultivation sources care about their patient members' safety," asks Mary. "Insist they obtain CannaQA certification of all their products."
For more information about the CannaQA seal or any of Botanitec's products or services, call (855) 229-3217 or visit http://botanitec.com/.
About Botanitec
Botanitec is a Bay Area marijuana testing service that serves growers and dispensaries across Northern California. Unlike standard pot testing services, Botanitec has a mobile cannabis lab, which enables them to deliver highly accurate, timely results to their clientele. Botanitec offers quality assurance to medical marijuana patients through rigorous testing and analysis of product samples, which includes screening for chemical contaminants, biological contaminants, physical material hazards, potency and more. Botanitec also offers the CannaQA Certification Program, designed to give patients confidence that medicine bearing the CannaQA seal is clean and safe.
###