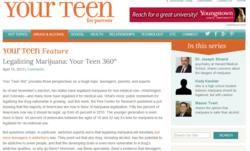 We want to give parents the type of information they will need to deal with sensitive subjects...
Beachwood, OH (PRWEB) April 29, 2013
Legalizing marijuana is the focus of Your Teen 360°, a new special report from Your Teen Magazine for parents of teenagers.
Your Teen Magazine created Your Teen 360° to offer parents multiple perspectives from teenagers, parents and experts.
The series, "Legalizing Marijuana: Your Teen 360°," notes that two states — Washington and Colorado — have legalized marijuana for non-medical use.
And a growing number of states have legalized it for medical use. Public opinion also favors legalization. For example, the Pew Center for Research published a poll showing that the majority of Americans (52%) believe marijuana use should be legal. In 2010, it was 45%.
The report includes views from high school student Kody Keckler; Mason Tvert, director of communications for the Marijuana Policy Project; and Dr. Joseph Shrand, medical director for CASTLE (a treatment center for adolescents) and an instructor of psychiatry at Harvard Medical School.
View the report here:
http://yourteenmag.com/2013/04/legalizing-marijuana-opinions
"We want to give parents the type of information they will need to deal with sensitive subjects that affect their teenage sons and daughters," Editor in Chief/ Publisher Susan Borison says. "Access to marijuana has enormous implications for families and society."
Here are a few excerpts:
Shrand:
There is a 2012 report from Columbia University's Center for Addiction and Substance Abuse (CASA) that is important for people who are considering the recreational use of marijuana. The study found that people who start using drugs or alcohol after the age of 21 are at a one out of 25 risk for lifelong addiction. But if you start using drugs or alcohol before the age of 18, you are at a one in four — or 25 percent — risk for lifelong addiction.
Keckler:
Marijuana has been proven to have medical benefits for various diseases, from chemotherapy for cancer to AIDS. While cannabis doesn't seem like it would be the best first choice for medical patients, licensed doctors do, truly, know best. Furthermore, as long as the informed patient is willing to try this form of medication, he or she ought to have the final say in the matter. Marijuana may prove to have an untapped potential to help those with severe ailments. But to see how deep the benefits really go, we need to first make it legal in the medical scene.
Tvert:
Those who support ending marijuana prohibition contend it would be more difficult for teens to buy marijuana if sales were conducted in licensed businesses instead of in the underground market. After all, illegal drug dealers do not ask for proof of age, and they might also have access to more harmful drugs. Supporters also make the case that a legal marijuana market would generate tax revenue that could be used to improve schools, and law enforcement officials would be able to focus more time and resources on violent and otherwise serious crimes.
About Your Teen Magazine for Parents:
Your Teen addresses the challenges inherent in raising teens and helps parents of teens to continue the journey toward the goal of successful parenting. In the magazine format, parents can pose questions, offer personal tactics and hear the different perspectives of professionals, other parents, and teenagers on relevant topics. Your Teen hopes to ease the worry.
Your Teen is available in Barnes & Noble.