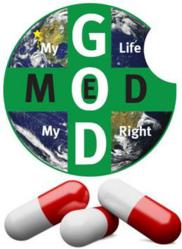 The capsules are slightly refined and activated for the body's immediate absorption.
San Francisco, CA (PRWEB) September 01, 2011
Due to recent changes in the laws and public opinion, people are increasingly turning to medical marijuana for relief from their ailments. But because smoking marijuana can irritate the lungs, and may pose additional health risks, many patients who could benefit from the all-natural drug don't use it. Those patients now have alternatives, says leading medical marijuana capsule producer GodMed.
Medical marijuana has been shown to not only treat the symptoms of serious illnesses, such as cancer and HIV/AIDS, but also to slows and may even prevent the onset of Alzheimer's disease. Unlike many prescription drugs, medical marijuana is completely natural and has few or no negative side effects, says GodMed. As the list of proven benefits continues to grow, innovations in technology have been made to maximize the potency and safety of the wonder drug. So far, marijuana capsules are leading the pack in both regards.
Steve Casebeer, founder of GodMed, is a firm believer in the superiority of medical marijuana pills. "The capsules are slightly refined and activated for the body's immediate absorption," explains the health-minded entrepreneur. "They treat a myriad of conditions and diseases without the side effects that normal prescription pharmaceuticals have."
Prescription drugs used to treat many ailments can have serious negative side effects—from dizziness to rashes to digestive problems to increased risk of heart attacks or stroke. Some prescription drugs are approved as safe for use, only to be recalled when they are later found to be harmful. Marijuana has been used for thousands of years to treat hundreds of ailments, and multiple studies have shown that users experience almost no adverse reactions. GodMed marijuana capsules are taken like a prescription pill, but have none of the nasty side effects of prescription medications.
Medical cannabis pills are also the best choice for patients who wish to avoid the health risks associated with inhaling the cannabis through smoking. The debate is still on as to whether smoking marijuana causes lung cancer or chronic obstructive pulmonary disease (COPD), but in an effort to improve a client's condition without the possibility of causing additional damage, medical professionals recommend ingestion of the medicine.
In the rapidly evolving medical marijuana industry, marijuana edibles are quickly gaining popularity, and GodMed cannabis capsules are one of the most innovative edible products on the market. GodMed capsules are made from the finest cannabis flowers and kif with a non-genetically modified soy lecithin emulsifier all in a veg capsule—nothing else. They are easy to digest, and convenient and discrete to carry.
GodMed capsules safely and quickly deliver the beneficial effects of medical marijuana without the perhaps unwanted consequences that are associated with some other modes of medicating, such as the smell of smoke or calories from baked goods.
Another benefit of these marijuana pills is that each batch is tested for the percentage of THC, CBD, and CBN content, information that is later displayed on each label. There is no risk of the over- or under-medicating that can come with smoking cannabis; marijuana capsules effectively take guesswork out of the equation.
Of course, medical marijuana is only available to patients with verification from a certified doctor of their need for the treatment.
For more information about cannabis capsules or any of GodMed's services, view them on the web at godmed.com/.
About GodMed
GodMed is a California medical marijuana company that specializes in the production of medical cannabis capsules. GodMed capsules are made from nothing but Emerald Triangle cannabis buds and kif inside non-GMO soy lecithin skin. These medical marijuana pills deliver the full spectrum of components of medical marijuana flowers in a convenient, discrete, easy-to-swallow veg capsule. Patients have used the medicine to naturally treat hundreds of ailments from headaches to depression to cancer without the sometimes debilitating side effects of prescription medications.
GodMed capsules are available at a number of California medical marijuana dispensaries and online at GodsMedicine.us. GodMed also offers revolutionary health enhancement products at GodMedGoods.com
###