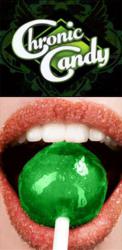 It's going to be mayhem out there, and Chronic Candy is ready. We have just the thing to cure your sweet tooth—or your cottonmouth.
San Bernadino, CA (Vocus/PRWEB) July 07, 2011
The Rockstar Mayhem Festival, the heralded hard rock and metal event of the summer, kicks off on July 9th at the San Manuel Amphitheater in San Bernardino. The tour features three stages with tons of bands ripping it up all day long. Disturbed, Godsmack, Megadeth, Machine Head, In Flames and Trivium are headlining the festival. Chronic Candy, the online marijuana entertainment and culture magazine, will be at every date on the tour with four flavors of their namesake hemp lollypops.
"It's going to be mayhem out there, and Chronic Candy is ready," says founder Tony Van Pelt. "We have just the thing to cure your sweet tooth—or your cottonmouth."
Chronic Candy will bring four flavors of the lollypop that made it famous. The hemp candy is not psychoactive—it contains no THC—but it is delicious. Varieties include the original hemp flavor, OG Kush; grape-flavored Purple Erkle; blueberry-flavored Blue Dream; and tropical-flavored Mango. Chronic Candy will have nickel bags and dime bags available at the booth.
Chronic Candy will be showing some love with free swag at the booth, too. Mayhem attendees are encouraged to stop by and grab stickers and rolling trays.
Doors at the opening show in San Bernardino open at 1:15, and the music starts at 2:10. The Jagermeister Stage will feature Jager Band, Red Fang, Kingdom of Sorrow, Unearth, and Trivium. Straight Line Stitch, All Shall Perish, Suicide Silence, and Testament will rock the Extreme Stage. The Rockstar Energy Drink Main Stage has an unbelievable lineup of the biggest hard rock and metal groups: Machine Head, Godsmack, Disturbed, and a special appearance by Dethklok, from Adult Swim's Metalocalypse.
"This is going to be a helluva hot summer, and you can get ready for true Mayhem this year," Megadeth's lead guitarist and frontman Dave Mustaine promised.
Rockstar Mayhem Festival kicks off on July 9th at San Bernardino's San Manuel Amphitheater. The event all ages. Tour dates and ticketing information are available at http://rockstarmayhemfest.com/dates.
For more information about Chronic Candy hemp lollypops, visit http://www.ChronicCandy.com.
About ChronicCandy.com
ChronicCandy.com is at the forefront of online medical marijuana news today. It's the one-stop shop for the latest information about the cultural, medicinal, and political aspects of the rapidly changing medical marijuana industry. Whether it's the newest trends in cannabis culture or developments in medical marijuana or politics and laws pertaining to cannabis use, Chronic Candy has it covered.