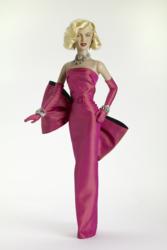 Marilyn Monroe will forever live on as a Hollywood icon and this partnership will bring some of her most memorable film moments to life through all new merchandise.
Kingston, NY (PRWEB) August 09, 2012
Tonner Doll Company, world renowned in the high-end collectibles industry, will release a collection of 16" dolls based on Twentieth Century Fox's Marilyn Monroe movies in their Fall Holiday Line Release.
"We are so excited to have access to Twentieth Century Fox's Marilyn Monroe movies!" exclaims Robert Tonner, CEO and world famous doll artist and sculptor. "We had so many ideas that we just couldn't wait to get into our Design Room. Marilyn's Fox films are so iconic, and it is a delight to be able to re-create Marilyn and bring her film essence to life."
Tonner's debut Marilyn doll was first revealed at the company's 2012 May Collectors Convention during their dinner event inspired by Gentlemen Prefer Blondes. The event centerpiece was a 22" Marilyn Monroe doll, called Diamonds, which featured Marilyn in her famous pink satin dress, just dripping in 'diamonds'. The 16" event souvenir for each attendee was called, Animal Magnetism, featuring Marilyn in another ensemble from Gentlemen Prefer Blondes: a black-on-black patterned dress with elegant side drapes, jacket and rhinestone pin. Both dolls quickly sold out, and are no longer available on http://www.tonnerdoll.com.
Like Animal Magnetism, the entire collection of 16" Marilyn Monroe dolls from the Fox Films, including Gentlemen Prefer Blondes and How to Marry a Millionaire, boasts a brand new Tonner doll body: The Starlet body, which consists of an ample Tyler bust line and a fuller hip. All dolls will also feature Marilyn's blonde tresses, signature beauty mark, notable widow's peak and sultry bedroom eyes.
Each doll will exude the glamour and style that Marilyn displays in her Twentieth Century Fox film roles, and will include some of the ensembles that she made famous.
"Marilyn Monroe will forever live on as a Hollywood icon and this partnership will bring some of her most memorable film moments to life through all new merchandise," said Jeffrey Godsick, President of Fox Consumer Products.
Scott Fortner, famed Marilyn historian and devout Marilyn collector, weighs in on the Tonner dolls:
"The construction and detailing of the new Marilyn Monroe doll line produced by the Tonner Doll Company is exquisite. Her celluloid career at Twentieth Century Fox comes to life through these sculpts, and I'm impressed with the replication of her film wardrobe, in particular her costume jewelry. With the new 22" sculpt representing Marilyn in Gentlemen Prefer Blondes, diamonds truly are a girl's best friend. Monroe dolls from Tonner will be an essential for every doll collector and Marilyn Monroe fan."
Tonner Doll is no stranger to transforming old Hollywood into captivating vinyl miniatures, and has had great success in the past with likenesses such as Joan Crawford, Bette Davis, and Ava Gardner, which won a 2011 Doll of the Year Award.
Look for Tonner's impeccable Marilyn Monroe movie role dolls in the fall of 2012. For more information, visit http://www.tonnerdoll.com , or visit the Tonner Company Store at 14 Hurley Avenue, Kingston, NY 12401.
About Tonner: Headquartered in Kingston, New York, the Tonner Doll Company, Inc. develops and markets high quality collectible dolls like Betsy McCall®, Effanbee® Dolls, and the popular Tyler Wentworth® and Antoinette™ line fashion dolls, as well as other licensed characters, including TWILIGHT, PIRATES OF THE CARIBBEAN, DISNEY, GONE WITH THE WIND, THE WIZARD OF OZ, HARRY POTTER™, as well as DC STARS and MARVEL UNIVERSE Super Hero Character Figures™ inspired by the world of comics.
About Twentieth Century Fox Consumer Products: A recognized industry leader, Twentieth Century Fox Consumer Products licenses and markets properties worldwide on behalf of Twentieth Century Fox Film Corporation, Twentieth Television and Fox Broadcasting Company, as well as third party lines. The division is aligned with Twentieth Century Fox Television, one of the top suppliers of prime time entertainment programming to the broadcast networks.