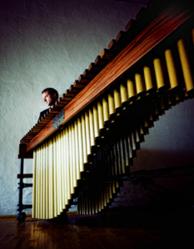 Arcata, CA (PRWEB) July 23, 2012
Marimba One, the world's premier maker of concert marimbas, has become the first company to let percussionists retrofit their instrument using its state-of-the-art Basso Bravo resonators.
What's more, the straightforward and easy innovation is also 'green' since Marimba One is essentially retrofitting an original part.
The idea came from marimba players themselves who wanted a warmer sound on the bass end than anything available on the market, said Ron Samuels, founder and owner of the Arcata-based company.
"We had already been studying the acoustic signature of the voicing of the resonators, the large tubes underneath the Honduran rosewood bars. So we knew, both as musicians and engineers, what the ideal sound would be," he added.
Reaching that goal--essentially turning up the volume on the fundamental frequencies on the bass end and turning down the volume of the overtones--can be heard in the dramatic presence and strength of the Basso Bravo resonator voicing.
"I truly believe that this is a major breakthrough for the marimba and its evolution as a musical instrument," Samuels said.
Music Professor Eugene Novotney concurs. The chair of the New Music Research Committee of the Percussive Arts Society, who had the eight lowest resonators of the his beloved marimbas removed and retrofitted with Basso Bravo resonators, also added: "I can't believe how easy it is."
That was the aim of Marimba One engineer Jason Lovitt."I designed it to be easy for customers--and by not wasting things, we're also making it green," he said.
The master of resonator tuning, Josh Stumpf, uses his craftsmanship on the 13 different sizes of round and oval tubing on Marimba One's five-octave marimbas. The result is smooth and balanced sound across the range of the keyboard--and a warmer, darker and louder bass end.
About Marimba One 
Marimba One is the world's premier maker of concert marimbas. Located in the college town of Arcata, nestled in the Redwoods of California, the company makes custom marimbas, giving great attention to the sound that customers want on their instrument within their budget.