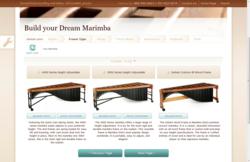 Arcata, CA (PRWEB) July 11, 2012
Now you can assemble the marimba of your dreams, with the help of "The Configurator," the on-line innovation of the world's premier maker of concert marimbas.
Marimba One spent months designing and developing the user-friendly configurator to let percussion enthusiasts choose and construct their ideal marimba.
Web visitors pick a frame, choose an octave range (4 1/3, 5 or 5 1/2 octaves), then select acoustic options between Basso Bravo or Classic resonators, and Traditional, Enhanced or Premium keyboards. They can also get a printable copy of their dream marimba--with a color photo, specifications and pricing.
The Configurator was designed by Marimba One's sales and marketing departments, helped by the design and user experience expertise of Darrin Breen of Accelerant with custom Drupal module development by Ted Bowman of Six Mile Tech.
"The goal was to clearly and simply present the available acoustic options on our instruments, so as to offer ever better service to our customers," said Nicole Riggs, Director of Marketing of the Arcata-based instrument manufacturer.
The Configurator made its debut this month and "the initial response from our customers and distributors has been positive and gratifying," she added.
About Marimba One
Marimba One is the world's premier maker of concert marimbas. Located in the college town of Arcata, nestled in the Redwoods of California, the company makes custom marimbas, giving great attention to the sound that customers want on their instrument within their budget.