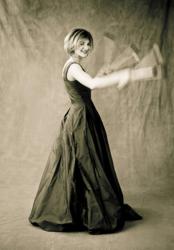 'It is important for the marimba to become a more widely known instrument, to reach into the conventional world.'
--Ivana Bilic
Arcata, CA (PRWEB) December 14, 2011
The internationally recognized marimba soloist--percussionist Ivana Bilic--is passionate about 'getting the marimba out of the niche.'
She insists that the marimba too long has been the stepchild on the concert stage.
'It is important for the marimba to become a more widely known instrument, to reach into the conventional world,' she says.
She believes that her music, as sophisticated as it may be, is accessible to all and that musicians benefit from a shared experience.
To put her words into action, she has chosen to lead her yearly "Ivana Bilic Marimba Week" concurrently with the Samobor Music Festival in Croatia.
It's there, especially, that she encourages an exchange.
'Being among other instruments and mingling with other musicians builds bridges,' explains the marimba one artist, who grew up in a family of musicians.
'I found that with a marimba one instrument, I feel I can always go further in my quest for the perfect sound.' She adds, 'I love to play percussion and when I first played the marimba, I immediately felt that this is a real concert instrument. The marimba is rich in possibilities of expression.'
Ivana has her signature line of mallets with marimba one.
To learn more about Ivana and her music, go to http://www.marimbaone.com/community/artists/ivana-bilic
About Marimba One
Marimba One is the world's premier maker of concert marimbas. Located in the college town of Arcata, nestled in the Redwoods of California, the company makes custom marimbas, giving great attention to the sound that customers want on their instrument within their budget.
###