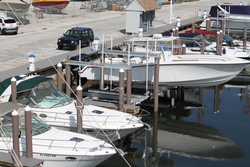 Fort Lauderdale, FL (PRWEB) February 28, 2011
PRWEB) February 28, 2011 -- Anglers Avenue Marine Center announces the installation of In-Slip Vertical Boat Lifts. AAMC has installed 16,000 lb and 27,000 lb boat lifts to store vessels from 26' to 50'. We currently have a 48' Sunseeker stored on a 27k lb lift say Mark Gelders, GM at AAMC. Our clients can park their car directly behind their boat, activate the remote, and be on the water in minutes with our boat lifts.
Boats look better and go faster with better fuel economy without bottom paint adds Mark Gelders. Also, painting a boat bottom is expensive and once painted, the boat requires annual painting. The bottom line is storing your boat out of the salt water will protect your drive train and boat bottom and prolong the life and value of the boat; says Gelders.
Anglers Avenue Marine Center chose the Category 5 Gear Driven Yacht Lift from Hurricane Boat Lifts because of the quality construction and their new "E" gear drive units for better lift performance. Using the larger gear guarantees years of trouble free performance. The gear dive system is completely sealed providing minimum maintenance for vessels up to 45,000 lbs.
Anglers Avenue Marine Center currently has 16,000 lb and 27,000 lb lifts available for lease. AAMC is located on the Dania Cutoff Canal just west of the Ft Lauderdale/ Hollywood International Airport. Contact AAMC at 954-962-8702 or via email at info@charterlakes.com. You can see their In-Slip Vertical Boat Lifts online at http://www.aamcmarina.com.
Fort Lauderdale Boat Storage - Anglers Avenue Marine Center has the LOWEST STORAGE RATES in South Florida for wet slips and dry storage. They currently have wet slips and dry storage available for lease at the lowest price in the area. AAMC also is the only marina in South Florida offering formal Hurricane Storage. For individuals looking for an insurance solution during hurricane season, AAMC has approved hurricane storage that will satisfy most underwriters.
Fort Lauderdale Full Service Marina - Anglers Avenue Marine Center offers all the services you would expect to find in a Full Service Marina. The staff at AAMC are specialists with a combined 75 years of experience in boat repair and service. They understand what is needed and deliver their service with integrity and the highest quality craftsmanship.
To learn more about Anglers Avenue Marine Center visit us on line at http://www.aamcmarina.com
###