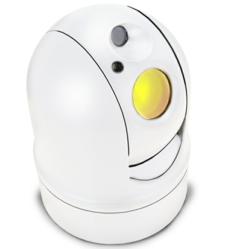 bring a rugged marine PTZ thermal camera to the vessel world at an astonishingly low price
Las Vegas, NV (PRWEB) June 26, 2012
SPI Corp is a leading provider and manufacturer of thermal PTZ cameras for vehicles, vessels and stationary applications. They have supplied Pan Tilt thermal cameras to Military and Law Enforcement agencies for over a decade. Their latest introduction to the market is a low cost Marine PTZ thermal camera for vessels of all sizes.
"We looked very closely at the marine PTZ market and discovered the need for a low cost PTZ solution that could be used on almost any vessel on the water," commented Randall Kolchins, Director SPI Corp. "The products that are currently on the market are either astronomically priced or sorely lacking in features. By leveraging our experience in thermal PTZ products and combining that with our thermal buying power, we realized that we could bring to market a marine PTZ that was superior in performance to competing products and would sell for a fraction of their MSRP."
The Marine PTZ market is a niche market composed of a few large companies and many smaller upstart entrants. Vessels that use Marine PTZ products are typically law enforcement craft, military reconasence vessels, coast guard and private yachts. These vessels are uses on both ocean and fresh water locations. Marine PTZ systems are built to withstand the rigors of the marine environment.
"We realized that our combat ready technologies were certainly rugged enough for a day on the water. We thought that many companies immediately increase the price of a product when they put the MARINE label on it. We decided that we could bring a rugged marine PTZ thermal camera to the vessel world at an astonishingly low price by leaving out the artificial marine price inflation," stated Mr. Kolchins. "We pride ourselves on returning value to our customers."
The SPI CORP M1-D Thermal Marine PTZ is said to be the first to combine multiple sensor technologies into a small lightweight all weather system. The M1-D Marine PTZ features a high-resolution thermal camera, a low light visual CCTV camera and a bore sighted laser pointer. The thermal camera is a heat sensing technology that can see in complete darkness or full daylight while the CCTV camera provides the operator the traditional video camera view. The Laser Pointer is said to aid in man overboard searches as well as enforcement operations coordination. The system is claimed to be a 4.5" gimbal with a mounted weight of only 2lbs. "This is the most awesome marine ptz we have ever built!" exclaimed Darren Desoto, Lead Technician SPI Corp. "I put these things together so I know what goes into them and this latest M1-D is our best ever. The internal workings are like a Swiss watch compared to the Frankenstein units I have repaired that were built by other companies. And these things hold up. I have personally put the test units through hell on and off the water. Lets just say I am impressed with the M1-D Marine PTZ"!
SPI Corp has been in the business of manufacturing and distributing Thermal Marine PTZ Solutions for well over a decade. Existing products include PTZ thermal imagers, thermal scopes and infrared cameras.
Potential customers interested in learning more about the M1-D Marine PTZ Thermal Cameras or for purchasing options including the entire line of thermal PTZ solutions offered by SPI Corp can visit http://www.x20.org. Customers seeking immediate attention regarding these products should contact Jim Santana at 702-369-3966.