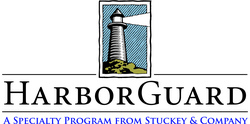 The marine industry has very few national carriers with rates that are competitive for local markets
O Fallon, MO (Vocus) April 17, 2009
Stuckey & Company, a managing general agent of niche insurance programs, is celebrating 20 years in the marine insurance industry, and is currently accepting applications from agents who want to represent its HarborGuard insurance program in key geographic areas. The HarborGuard program offers tailored liability insurance to a wide variety of marine businesses, including marinas and boat yards, boat dealers, and marine artisans such as boat repair and supply shops.
HarborGuard offers comprehensive insurance coverage tailored to the unique risks of the marine industry. The program is available to qualifying inland and coastal risks in 47 states (excluding Alaska, Hawaii and New Hampshire). Stuckey has in-house (same-day) quoting authority for many risks, and offers 24-hour turn-around for others.
Liability can be given up to $1 million per occurrence / $2 million aggregate, for general liability, marina operators legal liability, watercraft liability for rental boats and work boats, non-owned auto liability and liquor liability. Minimum annual premiums for $1 million / $2 million limits are $2,500.
Property coverage can be written on a basic, broad or special coverage form and the valuation of the property can be replacement cost or actual cash value. A $5 million TIV property capacity is available for onshore, floating, vessels, miscellaneous equipment and boat dealers' inventory. Deductibles start as low as $1,000.
Kerry Stuckey, COO of Stuckey & Company, has worked closely with the carrier to ensure the HarborGuard program is a competitive program in today's insurance environment. The carrier is rated by A+ (Superior) IX by A.M. Best, and is written non admitted.
"The marine industry has very few national carriers with rates that are competitive for local markets," Stuckey says. "Based on our extensive experience with marine insurance, we are confident that HarborGuard will address the insurance needs of marinas and marine professionals who have had difficulty finding appropriate, affordable coverage in recent years." Stuckey & Company is working with its top 100 producers to relaunch the program to eligible businesses, offering the opportunity for them to become a Premiere HarborGuard Agent in their local areas. Later in the year, it will roll out the program to a wider group of licensed agents.
For agents interested in writing HarborGuard policies, submission requirements include a completed HarborGuard application, a copy of the expiring premium (if possible), pictures of any docks, and three years of loss runs for the business. Agents who have not worked with Stuckey & Company in the past should also complete a Producer Agreement and Agent Questionnaire; they can complete these online at http://www.stuckey.com.
About Stuckey & Company
Stuckey & Company is a specialty insurance provider based in Lake St. Louis, Missouri. For nearly 20 years, Stuckey has offered technology, commercial, professional and personal lines insurance programs. Stuckey & Company's network of more than 8,500 licensed agents has the knowledge and experience in dealing with specific coverages not typically covered under standard policies. Additional information about insurance plans from Stuckey & Company is available at online at http://www.stuckey.com, or by calling 1-800-828-3452. To request information by mail, write to Stuckey & Company, 28 Hawk Ridge Circle, Suite 200, Lake St. Louis, MO 63367.
###