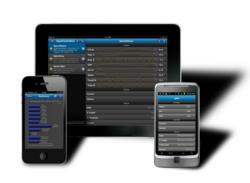 I can see a live video feed of my tank from my cell phone.
Garden Grove, California (PRWEB) June 30, 2013
MarineDepot.com Director of Operations Ben Ros slides into a booth at a trendy Asian fusion restaurant for dinner with his wife. As the maître d' fawns over his date making small talk, Ros quietly removes an iPhone from his pocket to sneak a quick glance at one of his favorite apps.
"Checking your Facebook?" his wife asks annoyed.
"No," Ros replies. "Checking my aquarium."
Ros is among a growing number of aquarium owners who use smart technology to make what was once considered difficult—keeping a healthy saltwater tank—easier than ever.
"I can see a live video feed of my tank from my cell phone," Ros says smiling. "I can even check the water conditions and make equipment adjustments right on my mobile device if something is awry."
His wife frowns and orders a drink.
Ros says energy-efficient aquarium lights, powerful filters and automation tools like timers, feeders, wavemakers and dosers make managing tanks of all shapes and sizes easier than ever before.
"An aquarium does not have to be a ball and chain that prevents you from getting away for a weekend at the beach or a holiday stay with your folks," says Ros. "The tank technology of today gives aquarium owners the freedom to enjoy life to the fullest, plus peace of mind that your investment will be taken care of while you're away."
Media reactors are a type of aquarium filter that serve one of two purposes: to replenish essential elements or remove undesirable chemicals from water. Reactors maximize the performance of filter media so hobbyists only have to replace it every 4-6 months in optimal conditions. Swapping out the media has traditionally been a messy endeavor. To help simplify this chore, Stephen Nguyen, Director of Sales and Marketing for Innovative Marine, thought about his own experiences as an aquarium keeper.
"What stops us from doing the things we need to do? It's simple: time. We must understand how people value time. Since media reactors have been on the market, they have proven to be a benefit to our aquariums. But once it came to maintaining the reactor, our aquariums paid the price," said Nguyen. "Convenience and time both play a factor when it comes to tank maintenance. Everyone has said to themselves, 'I'll get to it sometime this week.' We believe the reason why people have adopted the MiniMax All-in-One Media Reactor is because we took the experience full circle, creating a product that utilizes modern technology to alleviate the time it takes to keep our tanks looking and running their best."
Ros says aquarium supply store Marine Depot makes a concerted effort to bring aboard products that make the hobby easier so aquarium owners can spend more time focusing on the things they enjoy, like fish and coral, and less time on stuff they don't, like cleaning algae and maintaining equipment.
Lights are the most commonly automated devices in aquariums. Until a few years ago, a simple mechanical timer was the only way to turn your aquarium lights on-and-off. Adding separate lunar (or "moonlights") to this arrangement could provide a full 24-hour effect. Nowadays, state-of-the-art light systems, like the Hydra from Aqua Illumination, feature wireless control capabilities, near limitless color possibilities and individual LED sequencing to create realistic "dawn to dusk" and weather effects. Clouds can sweep across your tank as lightning streaks zig-zag along the light fixture.
"The new AI Hydra, now available for $399, combines the power and simplicity of the AI Sol with the wireless control and color options of the AI Vega," said Chris Clough, President of C2 Development, makers of the Aqua Illumination product line. "The Hydra uses our proprietary lenses to maximize output while blending seven controllable color channels including UV (400nm) and Violet (415nm)."
LED lights like the Hydra allow hobbyists to dial-in just the right color combination to grow and care for corals and marine invertebrates while using less energy than once-popular aquarium light technology like metal halide. Once programmed, hobbyists can "set it and forget it" or use the wireless remote to customize color and intensity on the fly. It only takes a few seconds, for example, to set a mellow blue hue to highlight the fluorescent corals inside a reef aquarium for guests at a dinner party.
For total tank control, Ros recommends a multi-item monitor & controller, or aquarium controller for short.
"You won't need one of these babies for your goldfish bowl," Ros laughs. "But if you've invested thousands of dollars in exotic fish and rare corals, products like the Apex Controller from Neptune Systems, are like an insurance policy. It can protect your tank from overheating, alert you if there's a water quality issue or leak and allow you to take corrective action from anywhere in the world using your phone, iPad or Android tablet. Hobbyists that use an aquarium controller will generally tell you it's the best piece of electronics they've ever purchased."
Marine Depot customer and Apex user Sean Minker of Blue Springs, Missouri, couldn't agree more.
"It does everything: dosing, lighting, skimmer, top-off—I do nothing manually anymore, besides clean the glass."
About MarineDepot.com
MarineDepot.com is the world's #1 supplier of marine and reef aquarium supplies. The company was founded in 1997 by self-professed "fish geek" Ken Wong after he became frustrated by the lack of selection and support provided by many local fish stores. Today, MarineDepot.com offers over 7,000 popular and hard-to-find products with free technical support provided by a staff of aquarium experts known as the Reef Squad. MarineDepot.com employs 45 full- and part-time employees in Garden Grove, CA. The company was included in the Inc. 500|5000 List of Fastest Growing Businesses in 2011 and is a 3-time Top 500 Internet Retailer and BizRate Circle of Excellence winner.
###