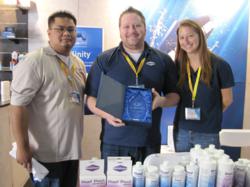 "We are witnessing a renaissance in aquarium product innovation," said Ben Ros, Director of Operations for MarineDepot.com.
Garden Grove, California (PRWEB) October 23, 2012
MarineDepot.com, the world's largest aquarium supply store, announced the winners of their second annual Best of Awards which honor the top brands and products in the aquarium industry.
Twelve winners were presented with beveled teardrop-shaped awards during the world's largest aquarium show, Reef-A-Palooza, October 20-21 at the Orange County Fairgrounds in Costa Mesa, CA.
"We are witnessing a renaissance in aquarium product innovation," said Ben Ros, Director of Operations for MarineDepot.com. "The Best of Awards are a way we can help hobbyists distinguish which brands go above and beyond the norm to create exceptional products and back them with quality customer support."
More than 180 brands from across the globe were considered for the MarineDepot.com Best of Awards, which recognize aquarium supply manufacturers and products that have demonstrated outstanding performance throughout a one-year period.
Newcomer Innovative Marine, founded in 2011 by industry stalwart Steve Yim, earned Best Nano Aquarium and Best Tank Gadget honors.
"It is an honor to be named among the aquatic industry's elite not once, but twice," said Yim. "It feels great to be recognized for building quality equipment and putting the customer first."
Product winners were selected based upon key performance metrics including sales volume, internet searches, website searches, customer rankings and call center data.
Neptune Systems, creators of the Apex aquarium controller line, took home the Reef-A-Palooza Best in Show award for the second consecutive year.
"Since 1995, Neptune Systems has put everything we have into being the leading innovator in aquarium control and monitoring technology. 2013 and beyond will be no different," said said Terence Fugazzi, Neptune Systems Vice President of Sales and Marketing. "However, in addition to pushing forward technology innovation, we are now upping our game in our marketing efforts as well as all things related to user experience. We appreciate the recognition MarineDepot.com has given us two years in a row for our efforts."
Below is the complete list of MarineDepot.com Best of 2012 award winners:
– Best New Product: Maxspect Razor R420R LED Light Fixture
– Best Protein Skimmer: AquaMaxx HOB-1 Hang-On-Back Protein Skimmer
– Best Aquarium Light: EcoTech Marine Radion XR30w LED Light Fixture
– Best Nano Aquarium: Innovative Marine Nuvo Aquariums
– Best Powerhead: EcoTech Marine MP40 Vortech Propeller Pump
– Best Fish/Coral Feeder: Two Little Fishies Julian's Thing Coral Feeding Tool
– Best Nano Product: Hydor Koralia Nano-Skim Internal Protein Skimmer
– Best In Show (Reef-A-Palooza 2012): Neptune Systems Apex Dashboard
– Best Tank Gadget: Innovative Marine Spin Stream Return Nozzle
– Best Supplements: Seachem
– Best Filter Media: Boyd Chemi-Pure
– Best Test Kits: Red Sea Pro Series
"The Best of Awards are largely determined by the aquarium keepers that use and love these products," revealed Ros. "We merely compiled the data points to shed light on which items customers can expect to get the greatest value and performance from."
For more information about MarineDepot.com and the Best of 2012 Awards, please visit http://www.marinedepot.com.
About MarineDepot.com
MarineDepot.com is the world's #1 supplier of marine and reef aquarium supplies. The company was founded in 1997 by self-professed "fish geek" Ken Wong after he became frustrated by the lack of selection and support provided by many local fish stores. Today, MarineDepot.com offers over 7,000 popular and hard-to-find products with free technical support provided by a staff of aquarium experts known as the Reef Squad. MarineDepot.com employs 45 full- and part-time employees in Garden Grove, CA. The company was included in the Inc. 500|5000 List of Fastest Growing Businesses in 2011 and is a 3-time Top 500 Internet Retailer and BizRate Circle of Excellence winner.