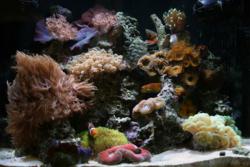 There are many factors that can be difficult to control in an aquarium, but temperature does not have to be one of them.
Garden Grove, CA (PRWEB) June 28, 2013
Weather forecasters are predicting a potentially deadly heat wave will bake the western United States this weekend, with temperatures rising as high as 118° F in Las Vegas and 129° in Death Valley, not far from the world-record of 134° set there a century ago.
Exceedingly high temperatures can endanger humans and animals alike. Aquatic life is especially susceptible to temperature fluctuations, so online aquarium store Marine Depot is providing aquarium owners with some tips, tricks and tank equipment to help hobbyists prepare their tanks to beat the summer heat.
"There are many factors that can be difficult to control in an aquarium, but temperature does not have to be one of them," said Ben Ros, Director of Operations for internet retailer MarineDepot.com. "With the right equipment, preparation and occasional ingenuity, aquarium owners should be able to keep their tank temperature stable and their pets safe year-round."
Saltwater aquariums make up the majority of Marine Depot's sales, a growing number of which are considered reef tanks—aquariums that contain not only fish, but also live corals and other marine invertebrates. Reef tanks are generally kept at temperatures between 75-82°. Radical shifts must be avoided since they can be particularly harmful to reef invertebrates and coral.
Ros says a number of determinants can cause the temperature of an aquarium to increase. Pumps used for water circulation can transfer heat to water; so can the aquarium lights used to illuminate tanks and grow coral. Summer is usually the worst time of year for dealing with temperature fluctuations. The temperature of the room the tank is in will have a significant effect on the temperature of the tank itself. Central air conditioning can help, although Ros says many hobbyists he knows live in apartments or condos with evaporative (aka "swamp") coolers, which are far less effective for cooling a tank if located in another room.
Just as there are a number of causes for heat in an aquarium, there are also a number of solutions available to help aquarium owners keep their tank temperatures within acceptable ranges.
"The two most popular ways to cool a home aquarium are the utilization of fans, aquarium chillers or a combination of both," said Adam Jackson, Staff Biologist for JBJ Aquarium Products, a popular aquarium supply manufacturer. "Fans essentially create a more arid environment, breaking up the water surface tension that acts as a catalyst for evaporation in the aquarium, which cools it as a by-product. Aquarium chillers work along the same principles as many A/C and refrigeration units. Heat is removed from the liquid passing through the chiller via a vapor-compressor. Chillers are favored for their effective and precise control, such as the Arctica Titanium Chillers by JBJ, which can control water temperature with the small differential of 1°. Stable thermal control is an important part of overall health and husbandry and should not be overlooked."
Ros says another way aquarium owners can keep it cool this summer is by upgrading from fluorescent and metal halide bulbs to LED aquarium lights.
"The radiant heat produced by LED lights is negligible to non-existent in many cases," said Ros. "With less heat being transferred into your aquarium, the less likely you are to need cooling equipment, like fans or a chiller, to bring down the temperature of your tank."
Another trick Ros recommends is using an aquarium controller to automate a tank's heating and cooling equipment. Aquarium hobbyists can program their controller to turn on their chiller and turn off their lights, for example, when the temperature reaches undesirable levels. Controllers can also alert hobbyists via text message or email when their tank parameters are out of whack so they can make adjustments over their mobile device.
Marine Depot offers overnight delivery for aquarium hobbyists in a bind, but Ros would also like to remind fish and coral keepers about cooling liquid the old-fashioned way: with ice cubes.
"It's more of a hands-on approach to cooling a tank and certainly not the most efficient way to do it, but it works," Ros said. "One of the easiest methods is to fill empty two-liter soda bottles with water—careful to leave room for expansion as the water freezes—then place them inside a sump or tank to help chill the water. You could also use sealed bags of ice cubes or ice cubes by themselves if they are made using reverse osmosis filtered water."
Ros says hobbyists should hope for the best but always prepare for the worst.
"With increasing summer temperatures, the likelihood of brownouts and blackouts increase dramatically," Ros cautions. "We all can't afford backup generators to power our aquariums, but there are far less expensive items like uninterruptible power supplies, battery backups and battery-powered air pumps that can power equipment long enough to ensure your tank makes it safely through the downtime."
About MarineDepot.com
MarineDepot.com is the world's #1 supplier of marine and reef aquarium supplies. The company was founded in 1997 by self-professed "fish geek" Ken Wong after he became frustrated by the lack of selection and support provided by many local fish stores. Today, MarineDepot.com offers over 7,000 popular and hard-to-find products with free technical support provided by a staff of aquarium experts known as the Reef Squad. MarineDepot.com employs 45 full- and part-time employees in Garden Grove, CA. The company was included in the Inc. 500|5000 List of Fastest Growing Businesses in 2011 and is a 3-time Top 500 Internet Retailer and BizRate Circle of Excellence winner.