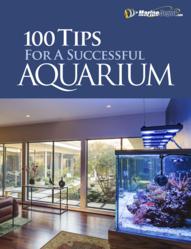 If you follow the no-nonsense principles laid out in this guide, you'll save yourself a lot of time, money and unnecessary stress.
Garden Grove, CA (PRWEB) January 31, 2013
Internet retailer MarineDepot.com recently published their first-ever eBook, "100 Tips for a Successful Aquarium," a 100+ page guide that explains in plain language how to maintain a healthy saltwater tank.
Marine and reef aquariums are regarded by many as too expensive, time consuming and complex to set up and care for. These are misconceptions MarineDepot.com Chief Operating Officer David King hopes can be overcome by reading the company's new book.
"There is so much information online about setting up and caring for a saltwater aquarium, it can be difficult to discern fact from fiction," King said. "If you follow the no-nonsense principles laid out in this guide, you'll save yourself a lot of time, money and unnecessary stress."
You won't need a master's degree in marine biology for this guide to be useful. The book is full of bite-sized nuggets of information King says are easy to digest and act upon to help people become successful saltwater aquarium keepers now and in the future.
"This book avoids using confusing language or jargon so beginners and experts alike can benefit from the information," said Ben Ros, MarineDepot.com Director of Operations. "Our goal is to demystify and simplify the hobby by breaking it down into understandable segments that will help you succeed."
The book's nine chapters cover everything from water filtration and lighting to maintenance and feeding. Nearly all of the 100 tips contained in the Amazon Kindle version of the handbook contain hyperlinks to articles, diagrams and products that help to further the reader's knowledge of the aquarium hobby. The iBooks version on iTunes features image galleries readers can flip through on their iPads to learn more about the equipment referenced in the book.
A few examples of the topics covered in the book include:
– How to provide and maintain ideal water conditions
– How to properly introduce and care for livestock
– How to keep aquarium equipment running at optimum performance
– How to prevent and get rid of aquarium algae
"If you've always wanted to set up a saltwater tank but have been too intimidated to try, this book is for you," said Ros. "We've compiled our many years of personal and professional aquarium keeping experience into these pages and believe this book is a platform you can use to build your own thriving saltwater aquarium upon."
"100 Tips for a Successful Aquarium" can be digitally downloaded now for $4.99 from Amazon or iTunes.
About MarineDepot.com
MarineDepot.com is the world's #1 supplier of marine and reef aquarium supplies. The company was founded in 1997 by self-professed "fish geek" Ken Wong after he became frustrated by the lack of selection and support provided by many local fish stores. Today, MarineDepot.com offers over 7,000 popular and hard-to-find products with free technical support provided by a staff of aquarium experts known as the Reef Squad. MarineDepot.com employs 45 full- and part-time employees in Garden Grove, CA. The company was included in the Inc. 500|5000 List of Fastest Growing Businesses in 2011 and is a 3-time Top 500 Internet Retailer and BizRate Circle of Excellence winner.