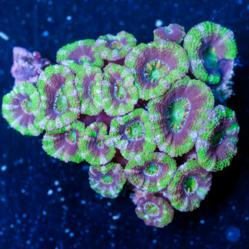 We are going to unveil a new coral each Monday for the next seven weeks on our website.
Garden Grove, CA (PRWEB) May 29, 2013
Marine Depot is giving away rare, colorful corals for the next 8 weeks in 'The Great Coral Giveaway,' a promotion so popular in 2012 it inspired the internet retailer to reopen its livestock division, Marine Depot Live, now co-sponsor of the event.
There is no purchase necessary to enter or win one of the eight live corals being given away in the sweepstakes. Residents of the contiguous United States 18 years and up need only sign up for the Marine Depot Live email newsletter between now and July 19 for a chance to win. New subscribers will also receive a 10% off coupon for MarineDepotLive.com that will never expire.
"We are going to unveil a new coral each Monday for the next seven weeks on our website," said David King, Chief Operating Officer for MarineDepot.com. "We will announce the winner of the coral each Friday on social media then contact them by email to arrange delivery of their new wet pet."
The new frontier of saltwater aquarium keeping is reef tanks, aquarium biotopes that feature intense lighting, turbulent water movement and precise water chemistry designed to recreate the living conditions in ocean reefs. Some of the more common creatures found inside a reef aquarium are clownfish, clams and, of course, corals.
The first coral up for grabs is actually a colony of green and purple Acan Lordhowensis, known simply as Acans in the aquarium hobby. Acan corals have amazing patterns and are found in many exotic color combinations in nature, from red, white and blue to purple, green, tan and even orange.
"Our staff is mostly comprised of aquarium hobbyists, so collectively we wanted to get back in the livestock business for some time," said Ben Ros, Director of Operations for Marine Depot and Marine Depot Live. "We came to our senses last summer after seeing the response to our first 'Great Coral Giveaway.' We reopened MarineDepotLive.com seven months later to much fanfare."
Visit MarineDepot.com today for your chance to win this week's multi-color Acan coral colony. Week one's winner will be announced Friday, May 31 and week two's coral will be revealed on the MarineDepot.com website Monday, June 3.
About Marine Depot
Marine Depot is the world's #1 supplier of marine and reef aquarium supplies. The company was founded in 1997 by self-professed "fish geek" Ken Wong after he became frustrated by the lack of selection and support provided by many local fish stores. Today, Marine Depot offers over 7,000 popular and hard-to-find products with free technical support provided by a staff of aquarium experts known as the Reef Squad. Marine Depot employs 45 full- and part-time employees in Garden Grove, CA. The company was included in the Inc. 500|5000 List of Fastest Growing Businesses in 2011 and is a 3-time Top 500 Internet Retailer and BizRate Circle of Excellence winner.
###