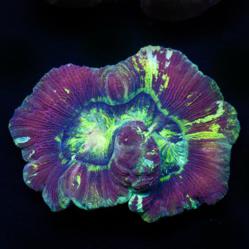 We are hobbyists, too, so this is a labor of love for us
Garden Grove, CA (PRWEB) February 21, 2013
Online aquarium supply store MarineDepot.com revived its aquarium livestock division earlier this month by launching a revamped MarineDepotLive.com, a companion website that sells rare and exotic What-You-See-Is-What-You-Get (WYSIWYG) corals and clams.
MarineDepotLive.com originally opened up shop in Orange County, CA—a hotspot for the aquarium hobby—in the summer of 2001. In 2009, the parent company's growing pet supply business necessitated a move to a larger location nearby that was not equipped for aquaculture at that time.
"When it comes to caring for delicate sea creatures, you have to do it right or not at all," said Ben Ros, Director of Operations for MarineDepot.com and MarineDepotLive.com. "So we made the difficult decision to shut down our livestock division and put all our energy into growing MarineDepot.com. We've been itching to get back in the game ever since."
With the economy picking up and operations at MarineDepot.com's new location running smoothly, the company decided it was time to reopen MarineDepotLive.com. This time, though, the company decided to forgo the one-stop shop route and instead focus on rare corals and WYSIWYG inventory.
"We consider the new MarineDepotLive.com more of a boutique than a livestock superstore," said Ros. "Our goal is no longer to carry everything available in the marketplace. Rather, we only want to sell the best the world has to offer and make sure our customers receive the EXACT animals advertised on our website."
According to Ros, corals are like snowflakes: no two are exactly alike. Shoppers may find similar specimens available in their online boutique, but once a WYSIWYG is sold, it's gone forever.
MarineDepotLive.com's aquaculture and holding center is located in Garden Grove, CA near MarineDepot.com's primary headquarters. The new facility has three 30' holding tanks with high-powered lighting and filtration equipment to care for and grow colorful corals and clams. In the coming months, the company plans to add saltwater aquarium fish, marine invertebrates and live rock to their product selection as well as expand their coral operations.
"We intend to keep our operations lean and responsive enough to adapt to what aquarium hobbyists tell us they want," said Ros. "We believe our quality, transparency and the success of our customers will generate favorable word-of-mouth that builds into a loyal following. We are hobbyists, too, so this is a labor of love for us."
About MarineDepot.com
MarineDepot.com is the world's #1 supplier of marine and reef aquarium supplies. The company was founded in 1997 by self-professed "fish geek" Ken Wong after he became frustrated by the lack of selection and support provided by many local fish stores. Today, MarineDepot.com offers over 7,000 popular and hard-to-find products with free technical support provided by a staff of aquarium experts known as the Reef Squad. MarineDepot.com employs 45 full- and part-time employees in Garden Grove, CA. The company was included in the Inc. 500|5000 List of Fastest Growing Businesses in 2011 and is a 3-time Top 500 Internet Retailer and BizRate Circle of Excellence winner.
About MarineDepotLive.com
MarineDepotLive.com sells colorful corals, fascinating fish, cool clams and interesting inverts for saltwater marine & reef aquariums. The company specializes in rare What-You-See-Is-What-You-Get (WYSIWYG) corals that are shipped from a state-of-the-art aquaculture and holding center in Garden Grove, CA. Orders are shipped via overnight delivery for a flat-rate of $24.99 and backed by a 14-day Arrive Alive Guarantee. MarineDepotLive.com was founded in 2001.