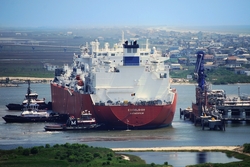 The fender systems are vital in the berthing operations at this facility and Maritime's products arrived on-time and were very easy to install;
Quintana Island, TX (PRWEB) September 10, 2009
One of the many new LNG facilities popping up in the USA recently received its first vessel in-service. Freeport LNG ended a 20-year hiatus in LNG terminal development with the construction of the new storage and regasification facility located 70 miles south of Houston.
Freeport LNG's commitment to environmental stewardship began as we initiated site selection, engineering and permitting of the Freeport LNG terminal project. From enhancement and preservation of existing wetlands and creation of new wetland areas, to recycling and using dredged soils as structural materials on-site, we have incorporated sound environmental principles into our daily practices. This commitment has become a hallmark of our project. This section includes a brief summary of some of the exciting Freeport LNG projects that exemplify our environmental philosophy and commitment.
The facility is literally surrounded by water, so accident protection is of the utmost importance. A crucial element in preventing spills is dock protection via marine fender systems. Freeport LNG uses four sets of marine fenders provided by Maritime International. Marine fenders act as a spring, absorbing the ship's energy while berthing. The four fender systems required for this project each consisted of a massive MCS 2250 cell fender with a 10'(3m) wide x 17'(5.2m) tall frontal frame with UHMW facing and accessories. The marine fenders were manufactured and delivered by Maritime International within 16 weeks of the order being placed by Bo-Mac. "The fender systems are vital in the berthing operations at this facility and Maritime's products arrived on-time and were very easy to install;" says John Fulton, Project Engineer for Bo-Mac Contractors, "The first berthing went off without a hitch and the marine fenders performed beautifully."
###