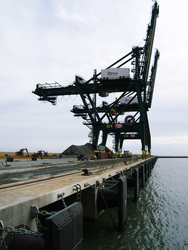 Maritime International took the time to listen to our needs, and provided a great deal of assistance and input with regards to our marine fender design requirements
Great Yarmouth, UK (PRWEB) March 9, 2010
In 2008, a joint venture between PSA International and International Port Holdings led to the construction of PSA UK East Terminal at Great Yarmouth in Norfolk, UK. PSA UK East Terminal is an excellent feeder terminal, allowing intercontinental loops to call at European continental ports. When fully operational, the terminal will have 400 m key length and 500 000 TEU capacity.
In June of 2008, Maritime International was awarded the marine fender systems for the project. By working closely with the owner, PSA, the consultant CGR, and the contractor BAM Nuttal, Maritime International manufactured a cost efficient marine fender system, designed for long life and functionality. "Maritime International took the time to listen to our needs, and provided a great deal of assistance and input with regards to our marine fender design requirements" said Peter de Koster, Purchasing Manager for PSA International. "Their technical support and flexible solutions helped PSA UK to design a fender system that is suited to the specific attributes of this facility while giving us room to grow."
A total of 68 marine fender systems were delivered in September 2009. Each system included:

Maritime International, Inc is a leading marine fender design and manufacturing company that operates globally from its headquarters in Louisiana, USA. If you require information, design assistance or budgeting for projects requiring marine fender systems, or other products provided by Maritime, please contact us.
PSA International is one of the leading global container stevedoring groups with investments in 16 countries around the world. They are known as one of the port operators of choice in the world's gateway hubs, with a focus on service for our clients.
###