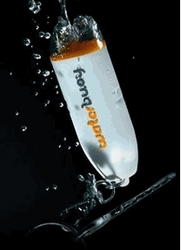 Tampa, FL (Vocus) September 29, 2009 –
Marinemart marine boating accessories had a wonderfully successful time introducing the Waterbuoy, an object survival device, to America at the recent Tampa Boat Show. Hundreds of intrigued people viewed the exciting demonstration and purchased the new space-aged Waterbuoy, and then told their friends to see Marinemart do it again at the Tampa State Fairgrounds on October 16th through the 18th.
A whole city heard about the new space-aged personal object survival device, and out they came to the Tampa Boat Show to see it. The fine folks from Marinemart.com tried to say "thank you" after every one of the countless purchases of the startling new Waterbuoy, but ended up having to say "you're welcome" because of the overwhelming gratitude from their customers.
The first thing boaters noticed, as they approached the eye-catching Marinemart display, was a large fish tank. They quickly smirked at a set of only three small keys sunk under a few feet of water. Next was epiphany #1. The drowned keys were attached to a plastic float, a float that had no actual functional use and was obviously just some promotional giveaway from a corrupt insurance company … or maybe Enron … or perhaps a devious politician. In any case, the message was clear. The so-called "plastic float" may as well have been called a plastic anchor.
But then they had epiphany #2. They also observed the Waterbuoy connected to a set of more than thirty keys also plopped in the tank. This two-pound set of keys was easily retrievable without so much as getting a pinky wet. Moments before, a smiling Marinemart marine boating accessories Representative connected the overabundance of metal to the Waterbuoy and dunked it all in. The keys submerged for a second or two, however, a sensor suddenly activated a safe gaseous discharge into a heavy-duty balloon …and up to the surface the gargantuan keys came.
Of course, everything happens in threes, including epiphanies. The customers, their eyes suddenly doubled in size, saw a blinking red light inside the rugged balloon. This light would've been visible from more than 800 feet away at night, hence epiphany #3. They realized they could attach a critical item to a beach ball, but the tiny, ergonomic, and light Waterbuoy would do a better job for them in the dark. It was simply amazing.
Do not fret. Marinemart marine boating supplies knows its customers actually want to safeguard their keys instead of pretending to safeguard them. They also know folks have expensive fishing reels, tools, PDAs or cameras in dry bags, and other important things which need protection when afloat. Experienced boaters know anything loose on a boat can find its way overboard even when docked. They need the Waterbuoy. All the have to do is go to Marinemart.com and feel what it's like to know for sure that any valuables weighing 2.2 pounds or less are secure. For more demonstrations, visit them at the Tampa State Fairgrounds from October 16th through the 18th, and feel what it's like to have really big eyeballs.
Marinemart originated from the heart and soul of boating enthusiasts in mid 2009. Based out of Tampa, Florida, and with the support of an international technology company, Marinemart.com seeks a new standard as an on-line marketplace. The excitement is viral once people get to know Marinemart. Introducing brand new items to America, like the amazing new Waterbuoy, is a perfect example. The Marinemart experience simply offers higher value at a price comparable to traditional boat supply outlets. Don't spend hours surfing the web for an item offered by some fly-by-night vendor. Log on and be part of the most expansive boating supplies venue. Relax, it's Marinemart.
For more information about the amazing new Waterbuoy or MarineMart, LLC, visit http://www.marinemart.com.
###