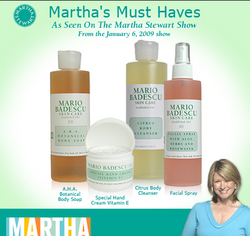 . . .on every edge of every sink of my house
New York, NY (PRWEB) January 30, 2009
To kick off the very first of her new series of Must Haves segments Martha Stewart spoke about her love of Mario Badescu Skin Care products and facials. She told her audience, "I've been going to Mario for about, I think, 40 years. Don't tell anyone!"
Aside from being a fan of Mario Badescu's signature facials, Martha highlighted each of her essential Mario Badescu products.
Martha says that the AHA Botanical Body Soap is, ". . .what I use in the shower every single day." The Citrus Body Cleanser leaves skin feeling, "Refreshed and clean just smooth and nice." Martha has the Special Hand Cream with Vitamin E, ". . .on every edge of every sink of my house," and calls the Facial Spray with Aloe Herbs and Rosewater a, ". . .wonderful hydrating mist."
Martha Stewart's Must Have Mario Badescu products:
AHA Botanical Body Soap $8.00 8oz.
Citrus Body Cleanser $8.00 8oz.
Special Hand Cream with Vitamin E $8.00 4oz.
Facial Spray with Aloe Herbs and Rosewater $7.00 4oz.
Martha Stewart Must Haves segment
For over 40 years, Mario Badescu has been relied upon as a source for quality skin care. Today our products and services are one of New York's best kept secrets. Our valued clientele includes models and actors as well as everyday men and women who understand the importance of good skin care. The brand's enduring success and loyal following are the result of the late Mario Badescu's timeless philosophy that skin care should be simple, gentle and effective. We continue our founder's tradition by using fresh fruits, botanicals and other natural ingredients as the basis for our products and salon services.
###