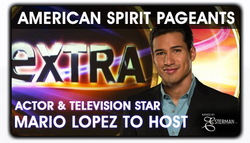 This is going to be one of the most exciting and unique events of its kind. - Dennis VanDerGinst
Rock Island, IL (PRWEB) September 27, 2010
Mario Lopez, actor and television star, has signed on to host the Finals for the American Spirit Pageant held on December 4th in Bettendorf, IA. American Spirit Pageants is the creation of attorney and entrepreneur, Dennis VanDerGinst. The idea was borne from his desire to do something novel to help raise money and national attention for HAVlife. HAVlife was created as a small charity in honor of Hunter Aaron Vondran, a young boy who tragically died at age 13, after a tragic accident at a water park. VanDerGinst represented the estate and grew to be friends with the family. For the past few years HAVlife has successfully helped enrich the lives of countless children through a regional Youth Scholarship and Enrichment Fund. Seeing the good it had done locally, HAVlife wished to expand its charitable mission across the country. But that would take a lot of time, money and energy… resources that were beyond the scope of a "start-up" charity.
VanDerGinst's law firm was adept at social and viral networking online. In the process of maintaining their Facebook page, VanDerGinst realized that several hundred of their "friends" were pageant contestants. Understanding the determination and compassion of women in the pageant world, VanDerGinst had the firm begin inquiring as to the level of interest that might exist for a pageant where a JUDGED CATEGORY would include fundraising for HAVlife. The response was overwhelming.
Encouraged by the response VanDerGinst quickly formed and organized "American Spirit Pageants". The idea was to build a pageant system that helped young women learn more about themselves and others, make new friends, build self confidence, gain greater social awareness, empower themselves and give back to the community. The essence of the American Spirit Pageant is the AMERICAN SPIRIT. VanDerGinst and the numerous volunteers that make up American Spirit Pageants believe that innate in the American Spirit is the desire to help one another. The TRUE American Spirit embodies character, conviction, courage, compassion and charity.
To illustrate character and compassion the contestants are judged on their ability to raise funds for charity, specifically for HAVlife this year. It accounts for 10% of the contestants' total scores. To obtain the minimum amount of points in this category a Contestant must raise $250. Contestants will gain full credit under this category if she raises a total of $3500 in a manner compliant with the rules. Of course, American Spirit Pageants and HAVlife would be more than happy to accept more. But, there will be no extra credit awarded towards a Contestant's total score beyond that $3500.
Some contestants have the connections to raise a lot of money with very little effort. They should be applauded for any effort to raise money for worthy causes. However, American Spirit Pageant Contestants should not be judged on their "connections" but on their desire to help and their ability to do what it takes to accomplish that goal. Therefore, a Contestant or their family members may contribute no more than $1000 towards the $3500 total, and the total amount raised must come from at least five different sources, thus ensuring that the contestants actually participate in an overt effort to help a worthy cause.
The inaugural pageant is scheduled for December 2-4th, 2010 in Bettendorf and Davenport, IA. The finals of the event will be held in conjunction with a Midwest holiday favorite, the VanDerGinst Holiday Bash to Benefit HAVlife. It will be a national pageant, with representatives from all 50 states and Washington D.C. for four different divisions: Teen Miss (ages 13-17) Miss (ages 18-25) Ms. (unmarried with children 18-25, or with or without children over 25 and unmarried) and Mrs. (married for at least one year). Thus, if all slots are filled there will be 204 total contestants. If each contestant were to raise the entire $3500 which represents full credit in the fund-raising category that would mean over $700,000 to HAVlife. If the pageant can successfully secure large sponsors it may mean a million dollars for HAVlife. The amount, and the manner in which it may be raised, would allow HAVlife to fulfill the dream of expanding its' mission nationally. All funds raised by contestants will be earmarked to establish a HAVlife chapters in the communities from which the money is raised.
Even though the Quad Cities (including Bettendorf and Davenport, IA) is not the most glamorous destination nor the easiest place to get to from all parts of the country, VanDerGinst decided to hold the inaugural event there in order to take advantage of the momentum that his Holiday Bash had already generated, and in order to help give the depressed economy in the area a boost around the holidays.
All the more impressive is that American Spirit Pageants was not in existence until August 5th, 2010. In that time the pageant has secured Mario Lopez as the host for the Finals and the VanDerGinst Holiday Bash. It has received over one hundred and fifty applicants. It has secured the guidance and help of Mrs. Iowa USA, Christine Streets and former Mrs. Iowa, Amy Keppler, as well as a huge number of other current and former pageant queens and local volunteers. Miss Universe from 1995, Chelsi Smith has also come on board, as well as a number of celebrity judges.
More information can be found online at:
http://www.americanspiritpageants.com, http://www.havlife.org, http://www.vlaw.com, http://www.vanderginstholidaybash.com, and on Facebook under American Spirit Pageants, American Spirit Pageant with the VanDerGinst Holiday Bash, VanDerGinst Law and Dennis VanDerGinst.
# # #